You are here
June 30, 2008
Online Care Helps Control Blood Pressure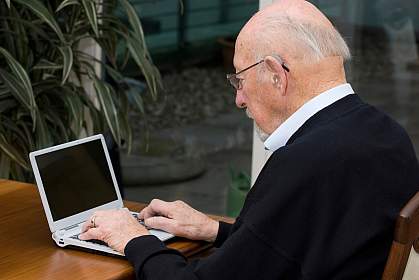 Patients with high blood pressure who received Web-based care from a pharmacist showed greater improvement in controlling their condition than patients who received standard medical care, according to a new study. The finding suggests that Web-based tools may help to engage patients in their own care and lead to improved health.
High blood pressure, or hypertension, is a leading contributor to death worldwide. Physicians and many patients know that better blood pressure control can reduce the risk of heart disease, stroke or kidney disease. But despite the availability of effective treatments, only about 1 in 3 patients with hypertension keep their high blood pressure readings below target levels.
In a clinical trial funded by NIH's National Heart, Lung and Blood Institute (NHLBI), a team of researchers from the University of Washington and Group Health, a medical practice based in Washington and Idaho, tested whether a Web-based approach might help to improve hypertension control. The team enrolled 778 patients, ages 27-75, whose blood pressure remained elevated despite receiving medications from their physicians.
The patients were randomly assigned to receive 1 of 3 care options. One group received standard medical care. Another received a home blood pressure monitor and instructions for gaining online access to their medical records, sending secure messages to their physicians and using a health information web site. The third group received those interventions plus secure web interactions with a clinical pharmacist every 2 weeks until blood pressure was controlled. The pharmacists adjusted the patients' medications and doses, depending on blood pressure readings. Results among the 730 people who completed the study were reported in the June 25, 2008, issue of the Journal of the American Medical Association.
After 1 year of treatment, more than half of the patients with web-based access to the pharmacist achieved target blood pressure readings—less than 140/90 mm Hg. By comparison, about 36% of those who received less-intensive web-based care and 31% who received standard medical care achieved that level of blood pressure control.
The web-based pharmacist care was especially effective for patients who initially had higher systolic blood pressure, the first number in a blood pressure measurement. A reading higher than 160 mm is typically more difficult to treat and carries a greater cardiovascular risk. After 1 year with online pharmacist care, this group had a greater net drop in blood pressure and had about 3 times as many patients with controlled blood pressure compared to the standard care group.
The researchers suggest that regular communications with a medical expert and ready adjustments to medications were key to the success of the more intensive web-based approach. This type of medical care might be especially helpful to patients who have difficulty traveling for clinic visits. The scientists now plan to explore whether similar web-based interventions might aid the treatment of other chronic diseases.
Related Links