You are here
June 16, 2006
Osteoporosis Drug Raloxifene as Effective as Tamoxifen for Invasive Breast Cancer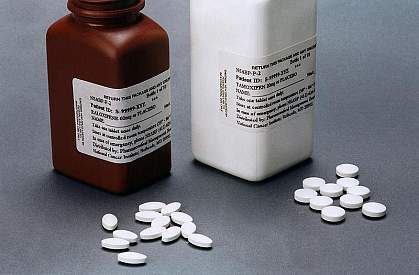 National Cancer Institute
Results of a new study show that the drug raloxifene, currently used to prevent and treat osteoporosis in postmenopausal women, works as well as tamoxifen at reducing breast cancer rates in postmenopausal women at increased risk of the disease. Both drugs reduced the risk of developing invasive breast cancer by about half.
In 1998, the landmark Breast Cancer Prevention Trial showed that tamoxifen could reduce the risk of invasive breast cancer in premenopausal and postmenopausal women by nearly 50%. Raloxifene is a drug approved by the Food and Drug Administration (FDA) for preventing osteoporosis in postmenopausal women. In animal studies, it reduced the incidence of breast and uterine cancer. In preliminary human trials, it reduced the risk of breast cancer without the uterine changes tamoxifen brings that can lead to uterine cancer.
The Study of Tamoxifen and Raloxifene (STAR), one of the largest breast cancer prevention clinical trials ever conducted, was sponsored by NIH's National Cancer Institute (NCI) to compare the two drugs. Researchers randomly assigned 19,747 postmenopausal women who were at increased risk for breast cancer to receive either raloxifene (Evista ®) or tamoxifen (Nolvadex ®) daily for five years. The maker of raloxifene, Eli Lilly and Company, and the maker of tamoxifen, AstraZeneca Pharmaceuticals, provided their drugs and matching placebos without charge. Eli Lilly also gave support to defray recruitment costs at the participating centers and to help local investigators conduct the study.
The results were published in a pair of early release articles posted online June 5, 2006 by the Journal of the American Medical Association. The numbers of invasive breast cancers in both groups of women were statistically the same: Among the 9,745 women in the raloxifene group, 168 developed invasive breast cancer, compared to 163 of 9,726 women in the tamoxifen group. Those taking raloxifene had fewer uterine cancers, but the difference wasn't large enough to prove it wasn't due to chance. There were no significant differences in noninvasive breast cancer, strokes, heart attacks and bone fractures. The researchers also found little difference in the total number of deaths or in the causes of death.
Raloxifene did have some advantages. Women taking it had a 21% lower rate of cataracts and an 18% lower rate of cataract surgery. They also had a 30% lower risk of pulmonary embolism and deep vein thrombosis, a clot in the deep veins of the leg that leads to embolism (141 vs. 100). On the other hand, those taking tamoxifen had a lower rate of noninvasive breast cancer (57 vs. 80), but that difference wasn't large enough to be judged statistically significant.
Quality of life measurements were similar for both drugs. Their side effects varied, but were mild to moderate. The women taking tamoxifen, however, reported higher levels of sexual interest, arousal and the ability to enjoy sex.
The STAR researchers will continue to follow up on the women in the study. In the meantime, it's important to note that raloxifene hasn't yet been approved by the FDA for use in preventing breast cancer. Talk to your doctor about your options.
Related Links