You are here
September 29, 2008
Pelvic Floor Disorders Affect Almost a Quarter of U.S. Women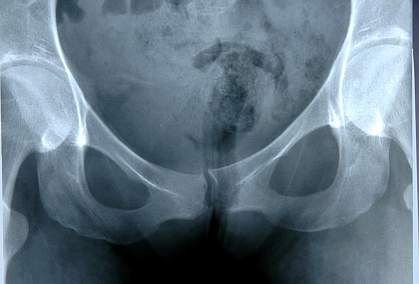 According to a new analysis, nearly a quarter of U.S. women are affected by pelvic floor disorders, a cluster of health problems that causes physical discomfort and limits activity.
Muscles and ligaments form a sling across the opening of a woman's pelvis, holding the bladder, uterus, bowel and rectum in place. Pelvic floor disorders arise when these tissues weaken or are injured. The 3 main pelvic floor disorders are urinary incontinence, fecal incontinence and pelvic organ prolapse. In pelvic organ prolapse, organs such as the uterus, bladder and bowel collapse onto the vagina and cause a bulge through the vaginal canal. Pelvic organ prolapse can be uncomfortable. All 3 disorders can make physical activity difficult and interfere with sexual functioning.
A research team led by Dr. Ingrid Nygaard of the University of Utah School of Medicine submitted questions on pelvic floor disorders for inclusion in the 2005-2006 National Health and Nutrition Examination Survey (NHANES). NHANES is a periodic survey of the U.S. population conducted by CDC's National Center for Health Statistics. The study was supported by NIH's Eunice Kennedy Shriver National Institute of Child Health and Human Development (NICHD), National Institute of Diabetes and Digestive and Kidney Diseases (NIDDK) and Office of Research on Women's Health (ORWH).
Almost 2,000 women—all 20 or older and not pregnant—answered questions about symptoms of pelvic floor disorders. The results, reported in the September 17, 2008, Journal of the American Medical Association, are the first to document in a nationally representative sample the extent of pelvic floor disorders.
Overall, about 24% of women had moderate to severe symptoms of at least 1 pelvic floor disorder. About 16% experienced urinary incontinence, 9% fecal incontinence and 3% pelvic organ prolapse.
The researchers found that the frequency of pelvic floor disorders increased with age. They affected about 10% of women aged 20 to 39 years, 27% of women aged 40 to 59 years, 37% of women aged 60 to 79 years, and nearly half of women 80 or older. Underweight and normal-weight women were less likely to have a pelvic floor disorder (15%) than overweight women (26%) and obese women (30%). The prevalence of pelvic floor disorders also increased with the number of times a woman had given birth. The researchers didn't find any differences in pelvic floor disorders based on race, ethnicity or level of education achieved.
"The study results underscore the need to identify the causes of pelvic floor disorders and the means to prevent and treat them," said Dr. Duane Alexander, director of NICHD.
Related Links