You are here
May 24, 2016
Physical activity associated with lower risk of many cancers
At a Glance
Leisure-time physical activity is associated with a lower risk of developing 13 different types of cancer.
The findings suggest that promoting physical activity may be important in cancer prevention and control.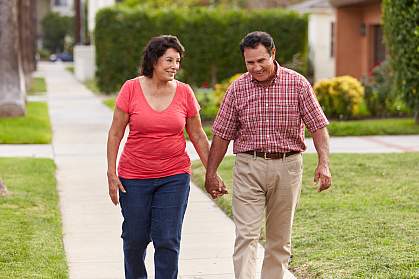 monkeybusinessimages/iStock/Thinkstock
Leisure-time physical activity has many health benefits. In addition to a reduced risk for heart disease, increased physical activity has been associated with a lower risk for colon, breast, and endometrial cancers.
An international team led by Dr. Steven C. Moore at NIH's National Cancer Institute (NCI) examined the associations between physical activity and various cancers. Results were published online on May 16, 2016, in JAMA Internal Medicine.
The researchers pooled data from 12 studies that together followed a total of 1.44 million people over time. Study participants were 19 to 98 years old (median age of 59), from the United States and Europe, 57% female, and had no history of cancer. The studies assessed physical activity by using surveys that asked about time spent in moderate to vigorous leisure-time physical activities, such as walking, running, or swimming.
The researchers harmonized activity levels between the studies by assigning percentile values from 0 (low activity) to 100 (high activity). They then compared cancer risks for the groups with the highest (top 10%) and lowest (bottom 10%) levels of activity. The median level of activity was about 150 minutes of moderate-intensity activity per week. This is comparable to the minimum level of physical activity that experts recommend.
Participants were followed for a median of 11 years. During this time, 187,000 new cases of cancer arose. Cancer types were selected for analysis if there were at least 300 cases.
The researchers found that people with the highest level of leisure-time physical activity had a reduced risk for 13 of 26 types of cancer compared to those with the lowest level of activity. People with the highest activity had a 20% lower risk for 7 cancer types: esophageal adenocarcinoma, liver, lung, kidney, gastric cardia, endometrial, and myeloid leukemia. They also had a 10-20% lower risk for myeloma and cancers of the head and neck, rectum, bladder, and breast.
The scientists controlled for factors such as age, sex, smoking status, alcohol use, diet, education, race/ethnicity, and body mass index (BMI). Ten of the 13 associations remained after adjusting for BMI. This suggests that, for the majority of cancers, physical activity reduces risk through mechanisms other than lowering body weight.
Leisure-time physical activity was associated with a greater risk of malignant melanoma, particularly in people from regions with strong sunlight. Outdoor physical activity increases sun exposure, which may lead to the higher melanoma risk. The investigators also found an association between physical activity and a higher risk of prostate cancer. There is no known biological rationale for this finding. Men who are more physically active might be more likely to get screened for prostate cancer, thus increasing rates of detection.
"Leisure-time physical activity is known to reduce risks of heart disease and risk of death from all causes. Our study demonstrates that it is also associated with lower risks of many types of cancer," Moore says. "Health care professionals counseling inactive adults should promote physical activity as a component of a healthy lifestyle and cancer prevention."
Related Links
References: Association of Leisure-Time Physical Activity With Risk of 26 Types of Cancer in 1.44 Million Adults. Moore SC, Lee IM, Weiderpass E, Campbell PT, Sampson JN, Kitahara CM, Keadle SK, Arem H, Berrington de Gonzalez A, Hartge P, Adami HO, Blair CK, Borch KB, Boyd E, Check DP, Fournier A, Freedman ND, Gunter M, Johannson M, Khaw KT, Linet MS, Orsini N, Park Y, Riboli E, Robien K, Schairer C, Sesso H, Spriggs M, Van Dusen R, Wolk A, Matthews CE, Patel AV. JAMA Intern Med. 2016 May 16. doi: 10.1001/jamainternmed.2016.1548. [Epub ahead of print]. PMID: 27183032.
Funding: NIH's National Cancer Institute (NCI).