You are here
October 31, 2011
Pinpointing Kidney Disease Risk in African Americans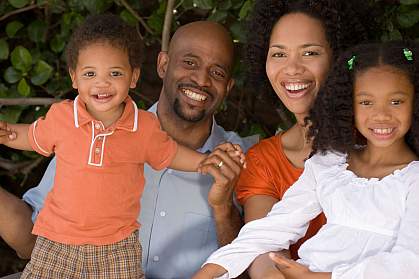 Variants in the APOL1 gene account for the increased risk of kidney disease among African Americans, according to a new report. The finding may lead to screening tests and earlier treatment, although further research is required.
When a person has kidney disease, the kidneys are unable to fully remove waste products and extra water from the blood. Long-term kidney disease hits the African American community especially hard, with rates up to 4 times higher than in European Americans.
In 2010, several NIH-funded research teams linked kidney disease risk to variants in a gene called APOL1. About 12% of African Americans have 2 copies of the APOL1 variants that increase the risk of kidney disease. These variants weren't found in people from other continents.
A research team led by Dr. Jeffrey Kopp at NIH's National Institute of Diabetes and Digestive and Kidney Diseases (NIDDK) and Dr. Cheryl Winkler of NIH's National Cancer Institute (NCI) set out to do a comprehensive analysis of APOL1 variation in both African Americans and European Americans. The researchers studied a common kidney disease called focal segmental glomerulosclerosis (FSGS). FSGS often progresses to end-stage kidney disease and the need for dialysis or a kidney transplant. The researchers studied patients who came to the NIH Clinical Center and other collaborating medical centers.
In the October 13, 2011, online edition of the Journal of the American Society of Nephrology, the team reported that African Americans with 2 copies of the APOL1 variants have about a 4% lifetime risk of developing FSGS. Those with the variants who develop kidney disease tend to do so at younger ages than other FSGS patients.
African Americans who have HIV and 2 copies of the APOL1 variants also have a higher risk of developing HIV-associated nephropathy (HIVAN) — a type of kidney disease that develops in some people with HIV. People who fall into this category and are not being treated with anti-viral therapy have a 50% risk for developing HIVAN.
"These findings explain nearly all of the excess risk of non-diabetic kidney failure in African Americans. African Americans with no variant or 1 variant have about the same risk of end-stage kidney disease as their white counterparts," Winkler says. "People with 2 APOL1 variants have greatly increased risk of particular kidney diseases — by 17- to 30-fold."
"In the future, knowing that you have these gene variants and are at increased risk of developing kidney disease may tell you when to start screening for the disease and how to choose therapy," Kopp says.
FSGS patients with 2 APOL1 variants respond as well to steroid treatments as those who don't have the variants, the researchers found. And anti-viral therapy appears fairly effective at preventing HIVAN. However, Kopp cautions that more research is needed to find out whether early genetic testing in the African American population would make a difference in eventual outcomes.
Related Links