You are here
May 12, 2014
Post-Surgery Steroids in Infants With a Rare Liver Disease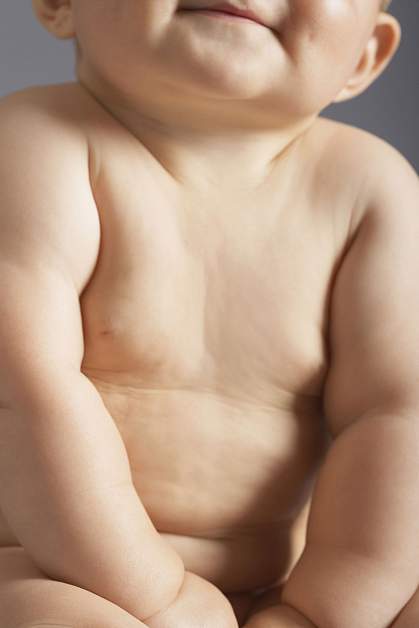 A follow-up treatment for infants receiving surgery for a life-threatening liver disease doesn't bring significant clinical benefit and causes early side effects, a new study reports. The findings will help inform treatments for at-risk babies.
Biliary atresia is the most common cause of severe liver disease in infants. Still, it's relatively rare, affecting about 1 of every 5,000 to 18,000 infants. The condition stems from inflammation and blockage of the large bile ducts that connect the liver to the gall bladder and intestine. The obstruction leads to buildup of bile, which can cause jaundice and liver damage, including scarring, loss of liver tissue, and liver failure.
Biliary atresia is typically diagnosed about a month or 2 after birth, and it requires quick treatment. Most infants need surgery to remove the damaged bile duct and attach the liver to a loop of intestine to enable bile to flow. Without this surgery, infants with biliary atresia are unlikely to live past age 2 unless they get a liver transplant.
Some earlier studies suggested that post-surgical treatment with corticosteroids might reduce liver inflammation and scarring. But because biliary atresia is so uncommon, these studies often lacked sufficient controls or were too small to decisively assess the benefits and risks of steroids. Nevertheless, the results fueled increased use of steroids after these surgeries.
To take a closer look, researchers launched a randomized, double-blind, placebo-controlled trial to assess whether infants treated with high-dose steroids after bile duct surgery fared better than children who received surgery alone. NIH's National Institute of Diabetes and Digestive and Kidney Diseases (NIDDK) provided primary support.
The team enrolled 140 infants with biliary atresia (mean age 10 weeks) at 14 sites nationwide. Half were randomly assigned to receive a 13-week course of steroids beginning within 72 hours after surgery. The others received a course of inactive placebo. Results appeared in the Journal of the American Medical Association on May 7, 2014.
The researchers found that, by 6 months after surgery, steroids didn't improve bile flow in infants. Bile drainage improved in 41 of 70 infants in the steroid group (about 59%) and 34 of 70 infants in the placebo group (49%)—a difference that's not statistically significant (not large enough to prove it isn't due to chance). Steroid use also seemed to offer no benefits for infant survival. By age 2, transplant-free survival rates were nearly the same in the treatment and placebo groups (about 59%).
Children in both groups had serious adverse events, as is typical with this condition. However, 37% of those on steroids had their first complication within 30 days of surgery, compared to 19% in the placebo group. Adverse events included surgical complications, infections, and bleeding in the digestive tract.
"These findings were unexpected, and we hope that doctors who care for these infants thoroughly consider the risks and benefits of corticosteroids in these very vulnerable children," says the study's lead author, Dr. Jorge A. Bezerra of Cincinnati Children's Hospital Medical Center.
Related Links
References: Use of Corticosteroids After Hepatoportoenterostomy for Bile Drainage in Infants With Biliary Atresia: The START Randomized Clinical Trial. Bezerra JA, Spino C, Magee JC, Shneider BL, Rosenthal P, Wang KS, Erlichman J, Haber B, Hertel PM, Karpen SJ, Kerkar N, Loomes KM, Molleston JP, Murray KF, Romero R, Schwarz KB, Shepherd R, Suchy FJ, Turmelle YP, Whitington PF, Moore J, Sherker AH, Robuck PR, Sokol RJ; Childhood Liver Disease Research and Education Network (ChiLDREN). JAMA. 2014 May 7;311(17):1750-9. doi: 10.1001/jama.2014.2623. PMID: 24794368.
Funding: NIH's National Institute of Diabetes and Digestive and Kidney Diseases (NIDDK) and National Center for Advancing Translational Sciences (NCATS); GlaxoSmithKline; Axcan Pharma US Inc.; and Mead Johnson Nutrition.