You are here
September 19, 2011
Preventing a Second Stroke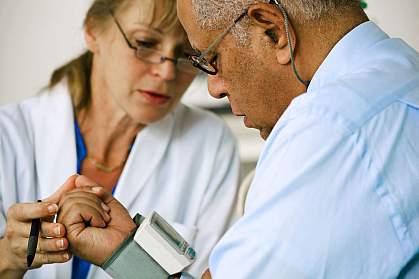 A large, nationwide clinical trial found that patients at a high risk for a second stroke who received intensive medical treatment had fewer strokes and deaths than patients who received a brain stent in addition to the medical treatment.
Stroke is the fourth leading cause of death in the United States. Intracranial stenosis, a blockage or narrowing of small arteries in the brain, accounts for more than 50,000 strokes annually. Patients with severe stenosis are at great risk for a second stroke. Treatment typically involves a medical program that includes blood-thinning medications and control of blood pressure and cholesterol.
In hopes of improving the odds for patients, doctors over the past decade have begun to also use an intracranial artery stent. The stent widens a major artery in the brain and improves blood flow. A research team led by Marc Chimowitz of the Medical University of South Carolina in Charleston set out to evaluate how the addition of intracranial stenting compares to intensive medical therapy alone in patients with severe stenosis — a blockage of greater than 70% of the artery. The study was funded by NIH's National Institute of Neurological Disorders and Stroke (NINDS).
The researchers enrolled 451 patients at high risk for stroke because of a significant blockage or narrowing of brain arteries. Each had experienced a recent stroke — either a transient ischemic attack, a type of stroke that resolves within 24 hours, or another type of non-disabling stroke caused by extensive stenosis. All participants received a very aggressive medical program along with a lifestyle modification program, which focused on quitting smoking, increasing exercise and controlling diabetes and cholesterol. Half of the patients were also given an intracranial stent. The results appeared in the September 15, 2011, issue of the New England Journal of Medicine.
About 15% of patients in the stenting group experienced a stroke or died within the first 30 days after enrollment, compared with about 6% of those treated with medical therapy alone. There were 5 stroke-related deaths within 30 days, all in the stenting group, and one non-stroke-related death in the medical management group. Beyond 30 days, the highly significant difference in favor of the patients in the study's medical group continued. Based on these results, new enrollment in the study was stopped in April, and NIH issued a clinical alert. The patients will continue to be followed for 2 years.
The higher stroke rate in the group with stents was unexpected. The reason for it is unclear. The Gateway-Wingspan stent used in this study, manufactured by Stryker Neurovascular, is the only device approved by the Food and Drug Administration for patients with atherosclerotic intracranial arterial stenosis. However, there are other non-FDA approved stents used in clinical practice.
"This study provides an answer to a longstanding question by physicians — what to do to prevent a devastating second stroke in a high-risk population. Although technological advances have brought intracranial stenting into practice, we have now learned that, when tested in a large group, this particular device did not lead to a better health outcome," says NINDS Deputy Director Dr. Walter Koroshetz.
Related Links