You are here
September 9, 2013
Program Improves Blood Pressure Control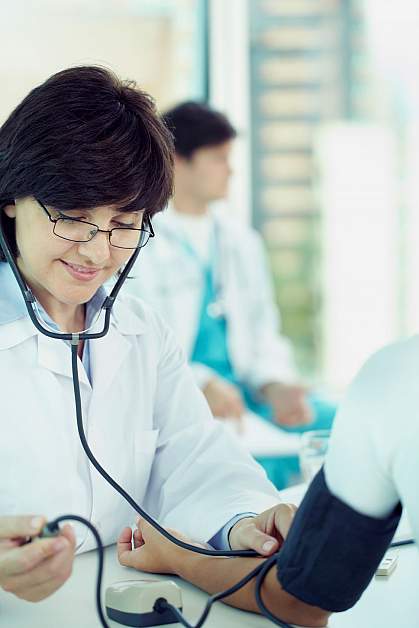 A large-scale program for controlling high blood pressure in a California health care system could help pave the way for improving blood pressure control in the general population.
About 1 in 3 adults has high blood pressure, or hypertension. The condition itself usually causes no symptoms, but it can damage the heart, blood vessels, kidneys and other parts of the body if left untreated. People with high blood pressure can take steps to control it and reduce the risk for related health problems. These steps include lifestyle changes, medicines, and ongoing medical care.
In 2001, Kaiser Permanente Northern California — a not-for-profit, integrated health care delivery system — launched a large-scale effort to treat hypertension. Almost 350,000 adults with hypertension were included in the program when it began in 2001. By 2009, the number of patients involved was more than 650,000.
The system used frequent quality reports to quickly identify high-performing medical centers and identify successful practices. Effective strategies were implemented throughout the system. One cornerstone of the program was an evidence-based, 4-step hypertension control practice guideline for clinicians. The guideline, which outlined medication therapy, was updated every 2 years based on emerging evidence.
The program promoted single-pill combination therapy, which involves combining multiple drugs into one pill. This strategy improves patient adherence and lowers costs. Medical assistants usually followed up with patients 2 to 4 weeks after medication adjustments. The staff reported to the primary-care physician, who could then direct treatment decisions and follow-up planning. This optimized the workflow for clinicians and gave patients greater scheduling flexibility.
A team of Kaiser Permanente researchers led by Dr. Marc G. Jaffe analyzed whether the system had met its goals. Their study was funded in part by NIH's National Heart, Lung, and Blood Institute (NHLBI). The report appeared on August 21, 2013, in the Journal of the American Medical Association.
The team found that hypertension control within the Kaiser system increased from about 44% to 80% during the study period. In contrast, hypertension control rates during the period increased nationwide from 55% to 64%. Rates in California weren't available for the entire study period, but were similar to national rates from 2006 to 2009. Control was defined as a systolic blood pressure less than 140 mm Hg and a diastolic reading less than 90 mm Hg.
"This successful program is evidence that large-scale and comprehensive monitoring and intervention systems can improve blood pressure control," Jaffe says. "More importantly, this model has tremendous potential to improve the health of millions of people. High blood pressure is an important modifiable risk factor for life-threatening illnesses including heart disease, stroke and kidney disease. As the population ages, high blood pressure will become an even bigger problem unless we act now."
— by Harrison Wein, Ph.D.
Related Links
References: Improved blood pressure control associated with a large-scale hypertension program. JAMA. 2013 Aug 21;310(7):699-705. doi: 10.1001/jama.2013.108769. PMID: 23989679.
Funding: NIH's National Heart, Lung, and Blood Institute (NHLBI).