You are here
October 20, 2014
Progress Toward an H7N9 Avian Flu Vaccine
At a Glance
An experimental vaccine against H7N9 avian influenza prompted substantial immune responses in 59% of volunteers.
The approach could lead to improved vaccines against this and other flu viruses.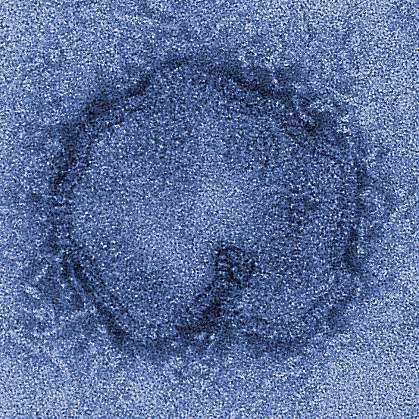 Cynthia S. Goldsmith and Thomas Rowe, CDC
Influenza, or flu, claims thousands of lives nationwide each year. Influenza viruses constantly change, or mutate. Flu pandemics can arise when novel avian strains acquire 2 abilities—to infect humans and to spread easily between people. That's why health experts keep a close watch on novel viruses.
The first cases of human H7N9 avian influenza were reported in China in early 2013. Most affected people had contact with infected poultry. The virus doesn't sicken birds, but can make people seriously ill. About 67% of reported cases have required hospitalization. As of September 4, 2014, more than 450 cases, including 166 deaths, had been reported to the World Health Organization.
The U.S. government, in coordination with researchers and vaccine manufacturers, has been working to develop an H7N9 vaccine. Previously tested vaccines have prompted little or no immune responses in volunteers. In a new study, a team led by Dr. Mark J. Mulligan of Emory University tested an experimental vaccine mixed with adjuvant—a substance that boosts the body's response to vaccination. The candidate vaccine, manufactured by Sanofi Pasteur, was made from inactivated H7N9 virus grown in chicken eggs. The adjuvant, MF59, is manufactured by Novartis Vaccines. The study was funded in part by NIH's National Institute of Allergy and Infectious Diseases (NIAID). It appeared on October 8, 2014, in the Journal of the American Medical Association.
The trial enrolled 700 healthy adults, ages 19 to 64. Volunteers were divided into 7 groups. All received 2 injections of vaccine 21 days apart. Two groups received vaccine at either 15 micrograms (µg) or 45 µg without adjuvant. Three groups received injections of vaccine at 3.75 µg, 7.5 µg, or 15 µg with MF59 adjuvant. The final 2 groups received only one dose of adjuvant with either their first or second dose of 15 µg vaccine. Adjuvant and vaccine were mixed just prior to use.
As expected, without adjuvant, even the higher dose vaccine prompted minimal immune responses. Among those who received 2 injections of the lowest vaccine dose (3.75 µg) with adjuvant, 59% showed a substantial immune response within the 42-day study period. Notably, the group that received just one dose of MF59 along with their first 15 µg injection had significant immune responses as well. This suggests that a single dose of adjuvant given with the first dose of vaccine may be enough to provide protection.
"Although this influenza virus does not currently spread easily from person to person, all novel influenza viruses have the potential to evolve to cause widespread illness or death," says NIAID Director Dr. Anthony S. Fauci. "Therefore, it is prudent to conduct clinical trials such as this one to be prepared in the event of an H7N9 avian influenza pandemic."
No serious vaccine-related adverse events were reported in any of the groups. Further study will be needed to test the duration of the immune response to the vaccine.
Related Links
References: Serological responses to an avian influenza A/H7N9 vaccine mixed at the point-of-use with MF59 adjuvant: a randomized clinical trial. Mulligan MJ, Bernstein DI, Winokur P, Rupp R, Anderson E, Rouphael N, Dickey M, Stapleton JT, Edupuganti S, Spearman P, Ince D, Noah DL, Hill H, Bellamy AR; DMID 13-0032 H7N9 Vaccine Study Group. JAMA. 2014 Oct 8;312(14):1409-19. doi: 10.1001/jama.2014.12854. PMID: 25291577
Funding: NIH's National Institute of Allergy and Infectious Diseases (NIAID) and National Center for Advancing Translational Sciences (NCATS); U.S. Department of Health and Human Services; Georgia Research Alliance; and Children's Healthcare of Atlanta.