You are here
October 20, 2014
Targeting Health Risks in Early Stages of Schizophrenia
At a Glance
Certain heart-related risk factors are present early in people diagnosed with schizophrenia spectrum disorders, according to a new report.
The findings highlight opportunities to improve health care planning and delivery for people with schizophrenia.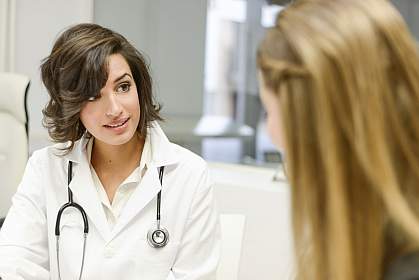 Schizophrenia is a severe, disabling brain disorder. People with schizophrenia may have hallucinations, seeing or hearing things that aren't there. They may believe other people are reading their minds, controlling their thoughts, or plotting to harm them. These episodes of psychosis (losing touch with reality) can lead affected people to become withdrawn or agitated.
People with schizophrenia have significantly higher rates of premature death than the general population. Cardiovascular illness and obesity-related cancers are the leading causes. However, little is known about how these cardiovascular risk factors develop during the course of the disorder.
The Recovery After an Initial Schizophrenia Episode (RAISE) project was launched by NIH's National Institute of Mental Health (NIMH) to develop ways to treat the early stages of schizophrenia and change the course of disease. A team led by Dr. John Kane of Hofstra North Shore-Long Island Jewish School of Medicine studied nearly 400 people with a first episode of schizophrenia. All were between 15 and 40 years old, with an average age of 24 years. Patients were enrolled from 34 community-based clinics across 21 states. Results appeared in the October 8, 2014, issue of JAMA Psychiatry.
In people with first-episode psychosis, the obesity rate was similar to that of the general population. However, smoking and metabolic syndrome (conditions that raise the risk for cardiovascular illness) were much more common. Rates of dyslipidemia (an abnormal amount of blood fats, such as cholesterol and triglycerides) and pre-hypertension were at levels typically found in people 15 to 20 years older. The researchers also found that treatment with antipsychotic medications was associated with an increased risk of metabolic syndrome.
Together, these results suggest that the increased health risks of people with first episode psychosis are due to an interaction of mental illness, unhealthy lifestyle behaviors, and antipsychotic medications. The findings highlight opportunities to improve the health of people with severe mental illness. For example, despite the high rates of smoking in this group, no patients received nicotine replacement or medical interventions for smoking.
"We need to routinely educate patients about healthy lifestyle behaviors, monitor physical health, choose lower risk treatments whenever possible, and manage issues as they arise," says Dr. Christoph Correll, who led the analysis. "Without a combined physical and mental health care approach, we miss major opportunities to improve psychiatric as well as medical health in patients with schizophrenia and other severe conditions."
Related Links
References: Cardiometabolic Risk in Patients With First-Episode Schizophrenia Spectrum Disorders: Baseline Results From the RAISE-ETP Study. Correll CU, Robinson DG, Schooler NR, Brunette MF, Mueser KT, Rosenheck RA, Marcy P, Addington J, Estroff SE, Robinson J, Penn DL, Azrin S, Goldstein A, Severe J, Heinssen R, Kane JM. JAMA Psychiatry. 2014 Oct 8. doi: 10.1001/jamapsychiatry.2014.1314. [Epub ahead of print]. PMID: 25321337.
Funding: NIH's National Institute of Mental Health (NIMH) and the American Recovery and Reinvestment Act.