You are here
October 17, 2011
Prostate Cancer Risk from Vitamin E Supplements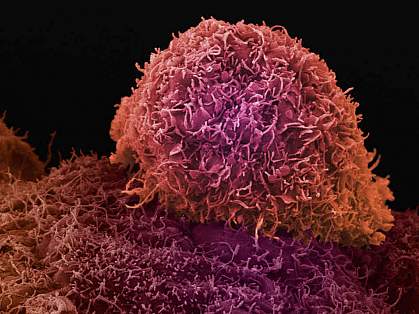 Anne Weston. All rights reserved by Wellcome Images.
A new study found that vitamin E, once thought to reduce the risk of prostate cancer, may actually increase the risk.
Prostate cancer is the second most common type of cancer in American men. Their current lifetime risk of prostate cancer is 16%. In 2011, there will be an estimated 241,000 new cases of prostate cancer and 34,000 deaths from the disease nationwide
Some early research had suggested that selenium or vitamin E might reduce the risk of developing prostate cancer. To investigate, NIH's National Cancer Institute (NCI) and several other NIH components funded the Selenium and Vitamin E Cancer Prevention Trial (SELECT). The study began in 2001 and included over 35,000 men.
An initial report in 2008 found that regular intake of vitamin E, vitamin C or selenium does not reduce the risk of prostate cancer or other cancers in older men. The participants were told to stop taking their study supplements and, in 2010, the study sites were closed.
The SELECT researchers had seen a slight increase in prostate cancer risk with vitamin E that may have been due to chance. Over half of the study participants had consented to continue to have their health monitored via mail questionnaires. The researchers' new analysis included this final data, which was collected through July 2011. Their report appeared on October 12, 2011, in the Journal of the American Medical Association.
The researchers found that men who took 400 international units (I.U.) of vitamin E daily had more prostate cancers than men who took a placebo. For every 1,000 men, there were 76 prostate cancers over a 7-year period among those who took vitamin E supplements vs. 65 in those taking placebo — 11 more cases of prostate cancer per 1,000 men. This represents a 17% increase in prostate cancers, a difference not likely due to chance.
The researchers don't know why vitamin E increased risk instead of decreasing it. SELECT researchers are now measuring the amount of vitamin E, selenium and other nutrients in the blood of participants when they joined the trial to see if the effect of the supplements was affected by baseline levels of these micronutrients. Other researchers are looking at single-letter DNA variations called single nucleotide polymorphisms (SNPs) to see if genetic differences affect a man's risk of developing prostate cancer while taking vitamin E.
"Based on these results and the results of large cardiovascular studies using vitamin E, there is no reason for men in the general population to take the dose of vitamin E used in SELECT, as the supplements have shown no benefit and some very real risks," says Dr. Eric Klein, a study co-chair at the Cleveland Clinic. "For now, men who were part of SELECT should continue to see their primary care physician or urologist and bring these results to their attention for further consideration."
Related Links