You are here
March 7, 2011
Protein Helps Pregnancy Proceed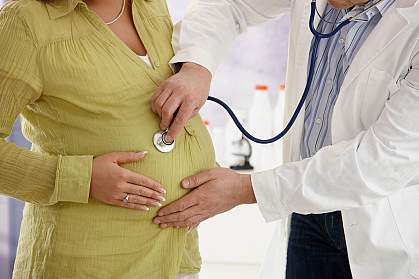 Researchers have identified a key step in the establishment of a pregnancy. The discovery may shed light on fertility disorders and diseases of the uterus, including endometrial cancer.
At the start of each menstrual cycle, levels of the hormone estrogen begin to rise, which causes the uterine lining to grow and thicken. When the ovary releases an egg, levels of another hormone, progesterone, increase. Higher progesterone levels put the brakes on the estrogen-driven growth of the uterine lining, allowing the lining to mature and egg implantation to take place.
Because of this function, progesterone is sometimes given to women to treat infertility and prevent premature birth. However, it carries some unpleasant side effects. A greater understanding of how progesterone works could lead to better treatments. It could also shed light on disorders such as endometrial cancer and endometriosis, which is marked by uncontrolled growth of the uterine lining.
To clarify how progesterone stops the growth of the uterine lining, the study's first author, Dr. Quanxi Li of the University of Illinois at Urbana-Champaign, led a group of researchers from several institutions. The team was funded through NIH's Eunice Kennedy Shriver National Institute of Child Health and Human Development (NICHD). Their findings were published in the February 28, 2011, issue of Science.
The team focused on the role of a protein called Hand2 in halting the growth of the uterine lining. They had previously found that blocking the progesterone receptor decreased Hand2 expression in uterine cells, indicating a link between Hand2 and progesterone.
In their new study, the team genetically engineered mice to lack Hand2 in the uterus, and then gave them progesterone. They then stimulated uterine lining growth with estrogen. In normal mice, progesterone prevents the uterine lining from growing. In the mice without Hand2, however, the lining grew in spite of the progesterone treatment.
The scientists found that uterine cells beneath the lining express Hand2 during egg implantation. Further experiments revealed that estrogen stimulates the production of molecules called growth factors, which cause the uterine lining to grow. High levels of Hand2, brought on by progesterone, stop the production of these growth factors. Therefore, the uterine lining stops growing, allowing egg implantation.
The discovery of Hand2's role in halting growth of the uterine lining may spur development of treatments for diseases like endometriosis and endometrial cancer. "This information helps us understand how the interplay of hormones prepares the uterus to host and support the embryo as it grows," says Dr. Milan Bagchi, a senior author of the study. "Our next priority will be to examine whether Hand2 plays a critical role in the human uterus as well."
Related Links