You are here
April 7, 2008
Rare Genetic Glitches May Raise Schizophrenia Risk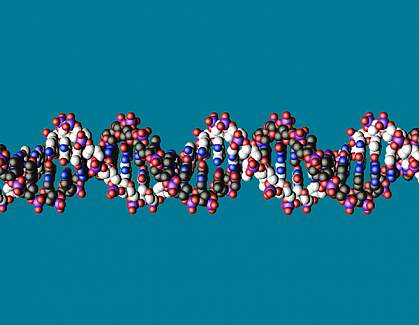 Peter Artymiuk, Wellcome Images.
Rare deletions and duplications in a person's genetic makeup may significantly increase the risk for developing schizophrenia, according to a new study. Most of the mutations are so unusual that researchers spotted them only in one person or a single family.
Scientists have been searching for the genetic roots of schizophrenia for decades. Although they've identified several genes associated with the disease, the contributions of these suspected genes are still uncertain. Researchers have generally believed that common variations in the genes can each exert modest effects that interact with those of other genes and with environmental factors to cause schizophrenia.
This new study suggests another factor that could contribute to the risk for schizophrenia: uncommon additions or deletions in a person's DNA. The findings were reported by 2 independent research teams, who combined their results and published a joint paper in the online edition of Science Express on March 27, 2008. One team was based at NIH's National Institute of Mental Health (NIMH). The other was funded in part by NIMH and 4 other NIH components.
In 1 analysis, researchers scanned the genomes of 150 people with schizophrenia and of 268 healthy individuals. The researchers identified 53 previously unknown deletions or duplications at various locations throughout the DNA strands. These genetic glitches—known as copy number variations—were found in 15% of patients who had adult-onset schizophrenia and in 20% who developed schizophrenia at age 18 or younger. In contrast, only 5% of the healthy participants had these types of genetic anomalies.
The genetic changes in schizophrenia patients were significantly more likely than those in healthy participants to disrupt genes involved in brain development. Among them were genes important for nerve cell communications via glutamate and neuregulin, both of which have previously been implicated in schizophrenia.
The other research team looked at the genomes of 83 people who had childhood-onset schizophrenia, diagnosed before age 13. Nearly 30% of these patients harbored rare genetic deletions or duplications. Many of the mutations seemed to be inherited, sometimes from parents unaffected by the illness; 13% of tested parents carried these mutations.
These types of genetic anomalies were implicated last year as a potential cause of autism. Some coauthors of the schizophrenia paper previously reported that many people with autism have spontaneous and rare genetic variations scattered throughout their genomes. The new study of schizophrenia echoes those results. Rather than implicating specific gene variants, the results suggest that schizophrenia can be caused by rare mutations in the potentially hundreds of genes that are involved in the development and regulation of the brain and nervous system.
"This is an important new finding in the genetics of schizophrenia," said NIMH Director Dr. Thomas R. Insel. "Identifying genes prone to harboring these mutations in brain development pathways holds promise for treatment and prevention of schizophrenia, as well as a wide range of other neurodevelopmental brain disorders."
Related Links