You are here
March 3, 2014
Rare Syndrome in Children Explained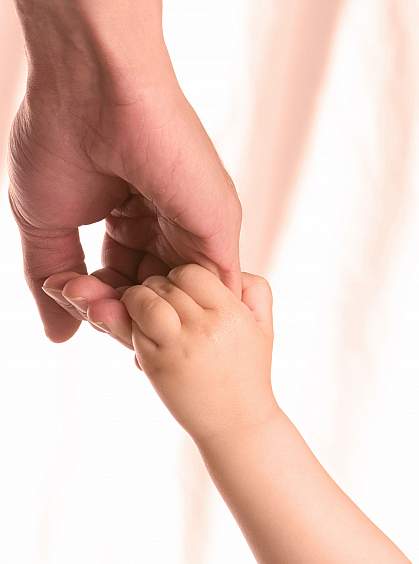 Advanced genomic techniques helped reveal the cause of a rare syndrome marked by recurring strokes and inflammation beginning early in childhood.
A 3-year-old girl came to NIH's Clinical Center about a decade ago with fevers, skin rash, and strokes that left her severely disabled. There was no history of a similar illness in her family, so the NIH group didn't suspect a genetic cause. A second patient 2 years ago had similar symptoms, including recurrent fevers and 6 strokes by her sixth birthday. Although neither patient had other cases in their families, the observation that there were 2 patients with similar symptoms and an early age of onset suggested a genetic cause.
Led by Dr. Daniel Kastner of NIH's National Human Genome Research Institute (NHGRI), researchers from 7 NIH institutes and centers investigated. They analyzed the exomes of these 2 patients and a third similar case, along with their parents. The exome is the complete set of protein-coding regions in the genome. While it represents little more than 1% of the genome, the exome harbors most disease-causing mutations. The study appeared online on February 19, 2014, in the New England Journal of Medicine.
The researchers found that each patient had rare, harmful mutations in the gene CECR1 that were passed to them from both parents. Sequencing of CECR1 in 2 additional U.S. patients with similar symptoms confirmed CECR1 as the causal gene. The team next sequenced CECR1 from 4 patients from other centers who had symptoms of the syndrome. Two were young siblings from Turkey diagnosed with polyarteritis nodosa, a form of vasculitis—inflammation of medium and small arteries that can lead to vital organ damage. Another Turkish patient had been diagnosed with small-vessel vasculitis, while a patient from the U.K. was a mysterious case without clear evidence of vasculitis. Harmful CECR1 variants were found in all these patients.
CECR1 codes for ADA2, a poorly characterized protein thought to be a growth factor that plays a role in immune system function. The researchers found significantly reduced ADA2 activity in the patients. To gain insights into the protein's function, the scientists turned to zebrafish. Defects in ADA2 caused intracranial bleeding in the animals, hinting at a role in blood vessel development or integrity.
Experiments in cells cultured from the patients suggested that ADA2 deficiency interferes with the body's balance of white blood cells called monocytes and macrophages. The patients' immune systems attack their own blood vessels, resulting in damaging inflammation that can cause strokes and other blood vessel-related problems.
The researchers call the new syndrome Deficiency of ADA2, or DADA2. The condition might be treated by replacing defective ADA2 in the bloodstream. The team has approval from the U.S. Food and Drug Administration to test the use of freshly frozen plasma to restore ADA2. An artificial form of the protein or bone marrow transplantations might also help.
In an accompanying paper, an Israeli research group reported variants of the same gene in patients with a similar type of blood vessel inflammation. "We now know that this mutation exists in the Middle East and in Pakistani populations and that it is not that uncommon. This study should help in identification of many other likely undiagnosed patients," says Dr. Ivona Aksentijevich of NHGRI, a senior author of the NIH study.
Some evidence suggests that ADA2 may also play a role in adult-onset strokes. Further study will be needed to understand how this pathway might affect the risk for stroke in the general population.
Related Links
References: Early-Onset Stroke and Vasculopathy Associated with Mutations in ADA2. Zhou Q, Yang D, Ombrello AK, Zavialov AV, Toro C, Zavialov AV, Stone DL, Chae JJ, Rosenzweig SD, Bishop K, Barron KS, Kuehn HS, Hoffmann P, Negro A, Tsai WL, Cowen EW, Pei W, Milner JD, Silvin C, Heller T, Chin DT, Patronas NJ, Barber JS, Lee CC, Wood GM, Ling A, Kelly SJ, Kleiner DE, Mullikin JC, Ganson NJ, Kong HH, Hambleton S, Candotti F, Quezado MM, Calvo KR, Alao H, Barham BK, Jones A, Meschia JF, Worrall BB, Kasner SE, Rich SS, Goldbach-Mansky R, Abinun M, Chalom E, Gotte AC, Punaro M, Pascual V, Verbsky JW, Torgerson TR, Singer NG, Gershon TR, Ozen S, Karadag O, Fleisher TA, Remmers EF, Burgess SM, Moir SL, Gadina M, Sood R, Hershfield MS, Boehm M, Kastner DL, Aksentijevich I. N Engl J Med. 2014 Feb 19. [Epub ahead of print]. PMID: 24552284.
Funding: NIH's National Human Genome Research Institute (NHGRI), National Institute of Arthritis and Musculoskeletal and Skin Diseases (NIAMS), National Heart, Lung, and Blood Institute (NHLBI), National Institute of Allergy and Infectious Diseases (NIAID), National Institute of Diabetes and Digestive and Kidney Diseases (NIDDK), National Cancer Institute (NCI), Office of the Director Common Fund, and Clinical Center; Sigma Tau Pharmaceuticals; and the Finnish Academy.