You are here
June 8, 2021
Rehab program helps frail older adults with heart failure
At a Glance
Older, frail adults with heart failure who participated in a personalized physical rehab program improved their endurance, strength, balance, and quality of life.
More than 80% of participants reported that they were still exercising at home six months after completing the program.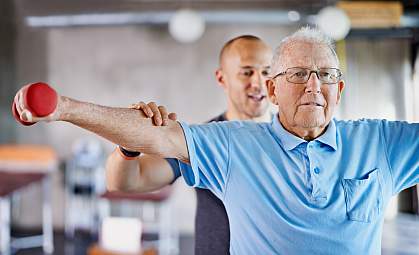 Yuri_Arcurs / E+ via Getty Images
Heart failure is the leading cause of hospitalization among older adults in the United States. In heart failure, the heart doesn't pump enough blood to meet the body's needs. People with heart failure live with symptoms that greatly reduce their quality of life. These can include shortness of breath, exhaustion, coughing, and swelling in the legs and abdomen.
Studies have shown that exercise training can help reduce symptoms in people with heart failure. However, such studies have largely excluded frail older adults with other health conditions. Due to bed rest and other factors, this group is especially vulnerable to experiencing physical decline while hospitalized for heart failure.
A research team led by Dr. Dalane Kitzman from Wake Forest University tested a new exercise rehabilitation program built specifically for older, frail adults. The goal of the program was to improve people's endurance, measured by the amount of time they could walk unaided. It also addressed problems with strength, balance, and mobility that prevented people from making endurance gains.
The program was personalized to each individual's baseline abilities and goals. Unlike other exercise rehabilitation strategies, the new program was designed to begin while people were still hospitalized, rather than after discharge. It then included outpatient sessions three times a week for three months.
The researchers enrolled 349 older adults with heart failure and severely impaired physical functioning. Participants had an average of five other health problems, including diabetes, obesity, high blood pressure, lung disease, and kidney disease. Half of the participants were assigned to participate in the new program, and half to receive usual care. Usual care could include other types of exercise training and physical therapy if prescribed by health care providers.
The study was funded in part by NIH's National Institute on Aging (NIA). Results were published on May 16, 2021, in the New England Journal of Medicine.
After three months of follow-up, people who participated in the new exercise program had improved substantially more than those who received usual care in balance, walking speed, and strength. People in the program also doubled their average walking endurance between the first and last rehabilitation sessions.
At six months, more than 80% of those who finished the new rehabilitation program reported that they were still doing the exercises at home. Results also suggested that people in the new program experienced improvements in mood during the study. No differences were seen between the groups in rates of hospital readmission or death.
"Designing earlier and more personalized individual-specific approaches to heart failure rehab shows great promise for improving outcomes for this common but complex condition that is one of the leading causes of hospitalization for older adults," says NIA director Dr. Richard J. Hodes. "These results mark encouraging progress on a path to better overall quality of life and physical function for the millions of older Americans who develop heart failure each year."
Related Links
References: Physical Rehabilitation for Older Patients Hospitalized for Heart Failure. Kitzman DW, Whellan DJ, Duncan P, Pastva AM, Mentz RJ, Reeves GR, Nelson MB, Chen H, Upadhya B, Reed SD, Espeland MA, Hewston L, O'Connor CM. N Engl J Med. 2021 May 16. doi: 10.1056/NEJMoa2026141. Online ahead of print. PMID: 33999544
Funding: NIH's National Institute on Aging (NIA); Kermit G. Phillips II Charitable Trust; Oristano Family Fund.