You are here
January 8, 2019
Revealing gene regulation in the brain
At a Glance
Researchers built a resource with information on gene regulation from more than 2,000 human brains.
Initial results included identifying mechanisms that may drive the risk of mental disorders, such as schizophrenia, bipolar disorder, and autism spectrum disorder.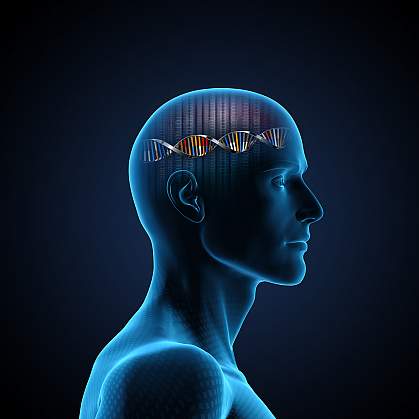 comotion_design/E+/Getty Images
In the last decade, scientists have linked hundreds of genetic variations to the development of mental disorders. But exactly how these regions of the genome exert their effects on the brain is poorly understood.
To help fill this knowledge gap, NIH's National Institute of Mental Health (NIMH) launched the PsychENCODE initiative in 2015. The project funded 15 research teams to create a catalog of how genetic variations impact how genes are turned on and off, or "expressed," and otherwise regulated in the brain. They also examined how changes in gene expression and regulation may help drive the development of psychiatric disorders.
The scientists had access to samples from more than 2,000 donated human brains. Some of the brains came from people with schizophrenia, bipolar disorder, or autism spectrum disorder. Others came from people with no psychiatric conditions (control brains). The first results from the effort were published in a series of 10 papers on December 14, 2018, in Science and two related journals.
One of the main Science papers described the data sets available in the PsychENCODE resource, all of which are freely available for other researchers to use. These include information on DNA variations and gene expression for about 32,000 cells taken from major regions of the donor brains.
The researchers integrated these data sets to better understand the regulatory networks in the brain. They then used machine learning to create a predictive model of the risk for psychiatric disorders based on variations in gene expression and regulation. This model proved to be several times more accurate than previous genetic methods of predicting the risk of mental disorders.
The other PsychENCODE papers used the resource to ask a variety of questions about gene expression in the brain. In one study, a team led by Dr. Michael Gandal from the University of California, Los Angeles, looked at the transcriptome—the complete set of expressed genes—across the lifespan in control brains and those from people with schizophrenia, bipolar disorder, or autism spectrum disorder.
The team found that large portions of the brain's transcriptome were altered in the three psychiatric disorders compared with control brains. The analysis showed that the greatest effects on disease risk were caused by differences in how genes were expressed and processed. The researchers were also able to associate the altered regulation of many genes with specific disorders: 64 for schizophrenia, 11 for bipolar disorder, and 5 for autism spectrum disorder.
In another paper, a team led by researchers at Yale and the Allen Institute examined how gene regulation changes in the brain over the course of human development. They found that different sets of genes, or modules, tended to be expressed together. Expression of these modules varied over the course of brain development. One such module, called ME37, contained a particularly high number of genes associated with schizophrenia, autism, and other psychiatric conditions.
"This is the tip of the iceberg," Gandal says. "The ability to compile together 2,000 brains has been revolutionary in terms of revealing new genetic mechanisms, but it also points to how much we don't know." The freely available PsychENCODE resource will now enable future investigations into human brain development and function.
Related Links
References:
Comprehensive functional genomic resource and integrative model for the human brain. Wang D, Liu S, Warrell J, Won H, Shi X, Navarro FCP, Clarke D, Gu M, Emani P, Yang YT, Xu M, Gandal MJ, Lou S, Zhang J, Park JJ, Yan C, Rhie SK, Manakongtreecheep K, Zhou H, Nathan A, Peters M, Mattei E, Fitzgerald D, Brunetti T, Moore J, Jiang Y, Girdhar K, Hoffman GE, Kalayci S, Gümüş ZH, Crawford GE; PsychENCODE Consortium, Roussos P, Akbarian S, Jaffe AE, White KP, Weng Z, Sestan N, Geschwind DH, Knowles JA, Gerstein MB. Science. 2018 Dec 14;362(6420). pii: eaat8464. doi: 10.1126/science.aat8464. PMID:30545857.

Transcriptome-wide isoform-level dysregulation in ASD, schizophrenia, and bipolar disorder. Gandal MJ, Zhang P, Hadjimichael E, Walker RL, Chen C, Liu S, Won H, van Bakel H, Varghese M, Wang Y, Shieh AW, Haney J, Parhami S, Belmont J, Kim M, Moran Losada P, Khan Z, Mleczko J, Xia Y, Dai R, Wang D, Yang YT, Xu M, Fish K, Hof PR, Warrell J, Fitzgerald D, White K, Jaffe AE; PsychENCODE Consortium, Peters MA, Gerstein M, Liu C, Iakoucheva LM, Pinto D, Geschwind DH. Science. 2018 Dec 14;362(6420). pii: eaat8127. doi: 10.1126/science.aat8127. PMID: 30545856.

Integrative functional genomic analysis of human brain development and neuropsychiatric risks. Li M, Santpere G, Imamura Kawasawa Y, Evgrafov OV, Gulden FO, Pochareddy S, Sunkin SM, Li Z, Shin Y, Zhu Y, Sousa AMM, Werling DM, Kitchen RR, Kang HJ, Pletikos M, Choi J, Muchnik S, Xu X, Wang D, Lorente-Galdos B, Liu S, Giusti-Rodríguez P, Won H, de Leeuw CA, Pardiñas AF; BrainSpan Consortium; PsychENCODE Consortium; PsychENCODE Developmental Subgroup, Hu M, Jin F, Li Y, Owen MJ, O'Donovan MC, Walters JTR, Posthuma D, Levitt P, Weinberger DR, Hyde TM, Kleinman JE, Geschwind DH, Hawrylycz MJ, State MW, Sanders SJ, Sullivan PF, Gerstein MB, Lein ES, Knowles JA, Sestan N. Science. 2018 Dec 14;362(6420). pii: eaat7615. doi: 10.1126/science.aat7615. PMID: 30545854.
Funding: NIH's National Institute of Mental Health (NIMH), National Institute of Neurological Disorders and Stroke (NINDS), National Institute on Aging (NIA), National Institute of Allergy and Infectious Diseases (NIAID), Eunice Kennedy Shriver National Institute of Child Health and Human Development (NICHD), and Office of the Director (OD); Department of Health and Human Services; Takeda Pharmaceuticals; F. Hoffman–La Roche; Simons Foundation; National Natural Science Foundation of China; National Key Plan for Scientific Research and Development of China; Innovation-Driven Project of Central South University; Kavli Foundation; James S. McDonnell Foundation; Beatriu de Pinós Program; Autism Science Foundation; Joint MRC–Wellcome Trust; Netherlands Organization for Scientific Research; and Sophia Foundation for Scientific Research.