You are here
October 19, 2009
RNA Marks Response to Liver Cancer Treatment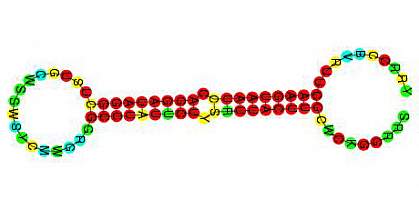 A small RNA molecule may help physicians identify liver cancer patients who could respond well to treatment with interferon, according to a new study.
Hepatocellular carcinoma, or HCC, is a common type of liver cancer. It is more common in men, who also tend to develop a more aggressive form of the disease. Surgery is currently the most effective therapy, but only about 10-20% of patients are eligible, and the relapse rate is high. To prevent relapse, many patients also receive post-operative treatment with interferon, a drug that can slow proliferation of cancer cells, but this approach often fails as well.
Various human cancers are marked by changes in levels of small RNA molecules known as microRNA. MicroRNAs play an important role in controlling gene activity by regulating translation, the process of building the cell's proteins. A research team led by Dr. Xin Wei Wang of NIH's National Cancer Institute (NCI) thus set out to look at variation in the expression of microRNAs involved in HCC. The team also included researchers from Fudan University in Shanghai, the University of Hong Kong in China and Ohio State University.
The researchers measured levels of microRNAs in both cancerous and non-tumor liver tissue from 455 surgery patients at the Liver Cancer Institute of Fudan University and the University of Hong Kong Medical Center Centre. In the October 8, 2009, issue of the New England Journal of Medicine, they identified several microRNAs that were expressed at higher levels in normal female liver tissue. One, miR-26, was highly abundant and showed the greatest difference between the sexes, so it was chosen for further analysis.
The scientists found that, whether male or female, patients who had low levels of miR-26 lived an average of 4 years less than those who had higher levels. The researchers confirmed the findings in 3 independent groups of HCC patients.
The team also investigated, in a separate analysis, whether miR-26 status influenced sensitivity to interferon therapy. Among patients with low tumor levels of miR-26, those who had received interferon therapy as part of their cancer treatment survived at least 7.7 years longer than those who did not receive interferon therapy. In contrast, patients whose tumors had normal levels of miR-26 did not benefit from interferon.
"Our study serves as a proof-of-concept for the use of microRNA expression levels to identify liver cancer patients who may benefit from interferon in addition to surgery," Wang says.
"Our findings are exciting because we are rediscovering a drug that may have great potential for patients with a particular genomic profile," he says. "Being able to treat patients with an existing drug based on a tumor's genomic profile should improve its efficacy and reduce the cost of treatment."
The researchers noted that more work will be needed to evaluate miR-26 in non-Asian HCC patients. They will also need to examine HCC patients who have other underlying liver diseases. The team is currently planning a clinical trial to further investigate interferon therapy in HCC patients who have tumors with low levels of miR-26.
Related Links