You are here
July 11, 2023
Screening newborns for deadly immune disorder saves lives
At a Glance
Newborn screening for severe combined immunodeficiency (SCID) led to prompt treatment before life-threatening infections occurred, boosting survival of children with the disorder.
The findings could encourage more widespread screening of newborns around the world for this disease.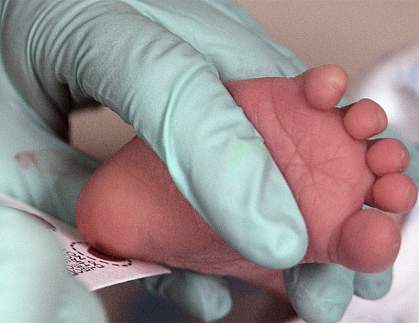 Staff Sgt Eric T. Sheler / U.S. Air Force Photographic Archives
Severe combined immunodeficiency, or SCID, is a rare disorder caused by mutations in genes involved in the development and function of immune cells. Forty to 80 babies in the United States and Canada are diagnosed with SCID annually. Infants with the disorder appear healthy at birth but are susceptible to severe infections. SCID is fatal, usually within the first year or two of life, unless the infant receives an immune-restoring treatment. Such treatment could be a stem-cell transplant, gene therapy, or enzyme therapy.
NIH scientists developed a newborn screening test for SCID in 2005. The test has made it possible to detect the disease in infants before symptoms appear. Steps can then be taken to prevent infection and provide life-saving treatment early. All U.S. states, Washington, D.C., and two U.S. territories now perform newborn screening for the disorder.
Previous studies had suggested population-wide newborn screening for SCID improved infant survival, but none had definitively proven it. The Primary Immune Deficiency Treatment Consortium (PIDTC), an NIH-funded research consortium, set out to find whether such screening for SCID improved the overall survival of infants with the disease. The team analyzed data on more than 900 children with confirmed SCID from 34 sites in the United States or Canada between 1982 and 2018. All children received treatment for their condition with a transplant of blood-forming stem cells. Some transplants were from genetically matched sibling donors, but most were from non-genetically matched donors. Unfortunately, less than 20% of patients have compatible donors available.
The researchers compared the five-year survival rate of children who received a transplant from 2010­–2018, when newborn screening was in effect at the sites, to earlier time periods. Results appeared on July 8, 2023, in The Lancet.
The children who received stem-cell transplants from genetically matched sibling donors had high overall survival rates throughout the study period. These children were excluded from further analysis. Among the rest, the five-year survival rate remained steady, at 72% to 73%, from 1982 to 2009, despite advances in clinical care. The survival rate then increased to 87% from 2010 to 2018. Among children whose disease was identified by newborn screening rather than illness or family history, 92.5% survived five years or more after treatment.
Previous research had shown that being younger than 3.5 months and not having an active infection at the time of transplant improved survival rates for children with SCID. The researchers found that both these factors were much more common in the era of newborn screening and drove the increase in the proportion of children with SCID who survived to age 5. Also, the percentage of babies with SCID who had never had an infection by the time of transplant was dramatically higher in 2010–2018 than in previous decades. This further fueled the survival increase.
"This study definitively shows that population-wide newborn screening for SCID has made it possible to save the lives of many more children with the disorder than ever before," says Dr. Hugh Auchincloss, acting director of NIH's National Institute of Allergy and Infectious Diseases (NIAID). "We hope these findings will encourage more countries to screen newborns for this devastating disease."
Related Links
References: Measuring the effect of newborn screening on survival after haematopoietic cell transplantation for severe combined immunodeficiency: a 36-year longitudinal study from the Primary Immune Deficiency Treatment Consortium. Thakar MS, Logan BR, Puck JM, Dunn EA, Buckley RH, Cowan MJ, O'Reilly RJ, Kapoor N, Satter LF, Pai SY, Heimall J, Chandra S, Ebens CL, Chellapandian D, Williams O, Burroughs LM, Saldana BD, Rayes A, Madden LM, Chandrakasan S, Bednarski JJ 2nd, DeSantes KB, Cuvelier GDE, Teira P, Gillio AP, Eissa H, Knutsen AP, Goldman FD, Aquino VM, Shereck EB, Moore TB, Caywood EH, Lugt MTV, Rozmus J, Broglie L, Yu LC, Shah AJ, Andolina JR, Liu X, Parrott RE, Dara J, Prockop S, Martinez CA, Kapadia M, Jyonouchi SC, Sullivan KE, Bleesing JJ, Chaudhury S, Petrovic A, Keller MD, Quigg TC, Parikh S, Shenoy S, Seroogy C, Rubin T, Decaluwe H, Routes JM, Torgerson TR, Leiding JW, Pulsipher MA, Kohn DB, Griffith LM, Haddad E, Dvorak CC, Notarangelo LD. Lancet. 2023 Jul 8;402(10396):129-140. doi: 10.1016/S0140-6736(23)00731-6. Epub 2023 Jun 20. PMID: 37352885.
Funding: NIH's National Institute of Allergy and Infectious Diseases (NIAID), Office of Rare Diseases Research, and National Center for Advancing Translational Sciences (NCATS).