You are here
July 9, 2012
Severe Food Allergy Reactions in Kids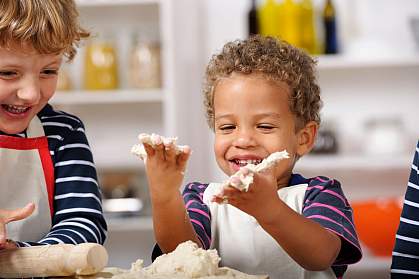 Young children with allergies to milk or eggs had allergic reactions to these and other foods more often than expected, a new study reports. The researchers also found that less than a third of the children with severe allergic reactions were given epinephrine, a drug that reverses symptoms and can save lives.
Food allergies are caused by an abnormal immune system reaction to food. By some estimates, about 5% of children under the age of 5 are affected. In severe cases, allergic reactions can lead to a life-threatening condition called anaphylaxis. Symptoms include throat swelling, a sudden drop in blood pressure, trouble breathing, fainting and dizziness. Epinephrine is the primary treatment for severe allergic reactions and anaphylaxis.
A research team led by Dr. David M. Fleischer of National Jewish Health in Denver and Dr. Scott H. Sicherer of the Mount Sinai School of Medicine set out to study food allergy reactions in preschool children. The scientists are part of the Consortium of Food Allergy Research, a research network established by NIH's National Institute of Allergy and Infectious Disease (NIAID).
The team followed 512 infants, ages 3 to 15 months old, for 3 years. The children entered the study either because they had a previous allergic reaction to milk or eggs or were thought likely to be allergic, based on a positive skin test and the presence of eczema, a chronic skin condition. At the start of the study, the caretakers were given advice and strategies for avoiding food allergens and written emergency plans with epinephrine prescriptions. Data was collected from patient questionnaires, telephone interviews and doctor's visits.
The researchers reported in the July 2012 edition of Pediatrics that nearly 72% of the children had a food-allergic reaction over the 3-year period. Over half the children had more than 1 reaction. The overall reaction rate was nearly 1 food-allergic reaction per child per year. Most of the reactions were to milk (42%), egg (21%) and peanut (8%). Notably, in 11% of the cases, the foods were given to the children on purpose, despite the information that had been given to their caretakers.
Over 11% of the allergic reactions were severe. Of these, however, only 30% were treated with epinephrine. Caretakers most often either didn't recognize how severe the reaction was, didn't have epinephrine available or feared administering the drug.
"Intentional exposures to allergenic food are typically reported in teenagers, who tend to take more risks or who might be embarrassed about their food allergy," Fleischer says. "What is troubling is that in this study we found that a significant number of young children received allergenic foods from parents who were aware of the allergy."
"This study reinforces the importance of educating parents and other caregivers of children with food allergy about avoiding allergenic foods and using epinephrine to treat severe food-allergic reactions," Sicherer says. "We must work harder to thoroughly educate parents about the details of avoidance and when and how to correctly use epinephrine to manage this life-threatening condition."
Related Links
References: Pediatrics. 2012 Jul;130(1):e25-32. Epub 2012 Jun 25. PMID: 22732173