You are here
June 15, 2015
Shorter Antibiotic Course Effective for Abdominal Sepsis
At a Glance
For people with complicated intra-abdominal infections, a 4-day course of antibiotics gave similar results to a standard longer course.
Shorter courses of antibiotics can save money, lower rates of side effects, and reduce opportunities for bacteria to develop resistance.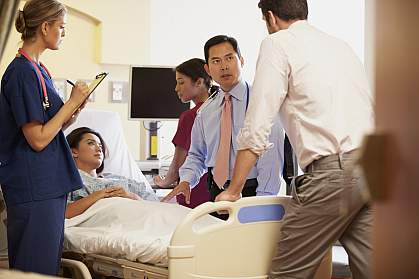 monkeybusinessimages/iStock/Thinkstock
Intra-abdominal infections are bacterial invasions from the gut that cause painful inflammation. These infections, which include appendicitis, are some of the most common illnesses worldwide. If allowed to spread, infection can lead to body-wide inflammation known as sepsis that can cause organ failure and death.
Treatment involves first clearing the infection at its original site, then using antibiotics to keep the infection from coming back and to prevent sepsis. Currently, doctors give antibiotics until 2 days after fever and other symptoms disappear, which can be up to 2 weeks. Some studies, however, have suggested that a shorter course might be just as effective.
To find out, a team of researchers led by Dr. Robert Sawyer at the University of Virginia designed the Study to Optimize Peritoneal Infection Therapy (STOP-IT). The work was funded by NIH's National Institute of General Medical Sciences (NIGMS) and National Institute of Allergy and Infectious Diseases (NIAID). Results were published in the New England Journal of Medicine on May 21, 2015.
More than 500 patients, ages 16 and older, were enrolled at 23 centers across the country. The participants all had intra-abdominal infections and had undergone a procedure to remove the source of the infection. Half were given 4 full days of antibiotics after their procedure. The other half received antibiotics until 2 days after symptoms were gone.
The researchers found that patients on a 4-day course of antibiotics did just as well as those given the traditional, symptoms-based course of 7 to 10 days. In both groups, about 22% had the primary outcome—a composite of surgical-site infection, recurrent intra-abdominal infection, or death. In addition, no significant differences were seen between the groups in any of the individual outcomes.
STOP-IT didn't achieve the sample size needed to prove these treatments were equivalent. However, it does provides encouraging evidence. "These data certainly suggest that if a good operation is performed, a short course of antibiotics may be all that is required," Sawyer says.
"The STOP-IT trial essentially cut in half the length of antibiotic treatment, meaning fewer side effects for patients and dramatically lower costs," says Dr. Sarah Dunsmore, an NIGMS expert on sepsis.
If confirmed, these results can help improve patient care by making the treatment of abdominal infections safer and more cost-effective. Adopting STOP-IT's 4-day drug regiment could save the United States nearly $100 million annually, according to an editorial that accompanied the article. A shorter antibiotic regimen would also lower the chance of bacteria becoming resistant, a major public health concern.
—by Ruchi Shah
Related Links
References:
Trial of short-course antimicrobial therapy for intraabdominal infection. Sawyer RG, Claridge JA, Nathens AB, Rotstein OD, Duane TM, Evans HL, Cook CH, O'Neill PJ, Mazuski JE, Askari R, Wilson MA, Napolitano LM, Namias N, Miller PR, Dellinger EP, Watson CM, Coimbra R, Dent DL, Lowry SF, Cocanour CS, West MA, Banton KL, Cheadle WG, Lipsett PA, Guidry CA, Popovsky K. N Engl J Med. 2015 May 21;372(21):1996-2005. doi: 10.1056/NEJMoa1411162. PMID: 25992746.
Antibiotics for abdominal sepsis. Wenzel RP, Edmond MB. N Engl J Med. 2015 May 21;372(21):2062-3. doi: 10.1056/NEJMe1503936. No abstract available. PMID: 25992751.
Funding: NIH's National Institute of General Medical Sciences (NIGMS) and National Institute of Allergy and Infectious Diseases (NIAID).