You are here
May 9, 2011
Simple Checklist Can Catch Early Signs of Autism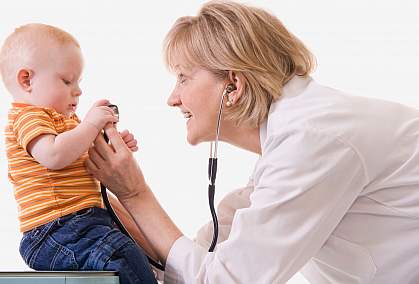 A 5-minute questionnaire completed by parents during well-baby checkups can spot subtle signs of autism and developmental delays in 1-year-olds, according to a new study. Early detection and treatment of these disorders may lead to better outcomes for children.
Autism is a complex brain disorder characterized by difficulties with social interactions, poor verbal and nonverbal communication and repetitive behaviors. It's often grouped with similar disorders that range from mild to severe and are collectively referred to as autism spectrum disorders (ASD). ASD affects about 1 in 110 American children.
Although there's no cure for ASD, most experts agree that early intervention can improve a child's quality of life in later years. However, many studies show a significant time lag between a parent's first reported concerns about a child's behavior and an eventual diagnosis of ASD.
To see if a simple screening tool might aid early detection, Dr. Karen Pierce of the University of California, San Diego, and her colleagues enlisted the help of 137 pediatricians in San Diego County. They systematically screened all children who came in for a 1-year, well-baby check-up by asking parents or caregivers to complete a brief questionnaire. The 24-question survey asked about a child's use of eye gaze, sounds, words, gestures, objects and other forms of age-appropriate communication. The physicians screened nearly 10,500 children. Their work was supported in part by NIH's National Institute of Mental Health (NIMH) and other NIH components.
As described in the April 28, 2011, online edition of the Journal of Pediatrics, 184 babies that received a failing score in the initial screen were further evaluated and followed for up to 2 additional years. Later, 32 received a provisional or final diagnosis of autism spectrum disorder, 56 were diagnosed with language delay, 9 with developmental delay and 36 with some other form of delay. The remaining 51 children had false positive results. Overall, the brief survey correctly flagged a problem 75% of the time.
After the screening test, all toddlers diagnosed with ASD or developmental delay and about 90% of those with language delay were referred for behavioral therapy. On average, the children were referred for treatment at about 17 months of age. In contrast, a 2009 study found that children generally receive an ASD diagnosis at nearly age 6 years, on average, with treatment beginning sometime later.
Besides tracking the children's outcomes, the researchers also surveyed the participating doctors. Prior to the study, few of the pediatricians had screened infants systematically for ASD. After the study, 96% of the doctors reported satisfaction with the program and all of their practices have continued using the screening tool.
"In the context of a virtual lack of universal screening at 12 months, this program is one that could be adopted by any pediatric office, at virtually no cost, and can aid in the identification of children with true developmental delays," says Pierce. The researchers note that future research should aim to further validate and refine this screening tool, track children until a much older age and assess barriers to treatment follow-up.
Related Links