You are here
January 26, 2015
Skin Microbes and the Immune Response
At a Glance
Research in mice shows how certain skin microbes help the immune system protect against pathogens.
The findings help clarify the protective role of skin microbes and may lead to a better understanding of various skin disorders.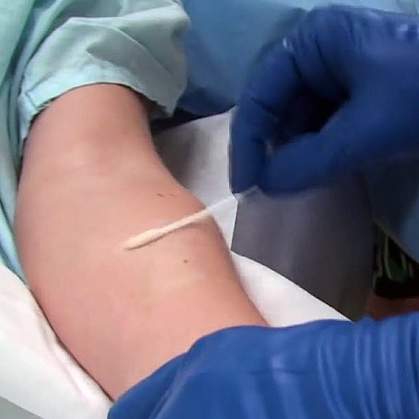 NIAID
Skin is a barrier that serves as one of the body's first lines of defense against harmful microbes. Specialized immune cells within skin tissue help to fight invading organisms. Yet the skin hosts diverse communities of beneficial bacteria, collectively known as the skin microbiota. These microbes that naturally colonize the skin are referred to as commensals.
Past work by an NIH research team showed that commensals can help the body's immune cells fight disease-causing microbes. The team, led by Dr. Yasmine Belkaid of NIH's National Institute of Allergy and Infectious Diseases (NIAID), includes Dr. Julie Segre of NIH's National Human Genome Research Institute (NHGRI) and Dr. Heidi Kong of NIH's National Cancer Institute (NCI). In their latest study, the researchers gained further insights into the relationship between commensals and the skin immune system. Results appeared online on January 5, 2015, in Nature.
The scientists applied Staphylococcus epidermidis, one of the most common species of bacteria on human skin, to the skin of laboratory mice. The bacteria remained on the skin and triggered an immune response in the skin. This led to production of cell-signaling molecules that help combat harmful microbes.
The team found that colonizing the skin of mice with S. epidermidis specifically increased the number of CD8+ T immune cells. These cells produce the immune signaling molecule IL-17A. These responses weren't associated with inflammation.
Further experiments showed that dendritic cells, another type of immune cell, played a key role in generating this specific, non-inflammatory response. Dendritic cells process proteins from pathogens and present them to other immune cells to prompt a response.
Mice colonized with S. epidermidis were protected against later infection with a disease-causing fungus. Depleting CD8+ T cells or neutralizing IL-17A removed this protective effect. Thus, S. epidermidis triggered distinct aspects of the immune system and enhanced immune responses against pathogens without causing inflammation.
IL-17A is known to play a role in various skin disorders, including psoriasis, that typically affect certain skin sites on the body. This work suggests how variation in microbial communities at different skin sites could contribute to these disorders. Future research will focus on elucidating the complex interactions between commensals and the immune system.
"We need to understand the connection between the immune system and the bacteria to improve health outcomes of a variety of skin disorders and other more systemic medical conditions," Segre says.
—by Harrison Wein, Ph.D.
Related Links
References:
Commensal-dendritic-cell interaction specifies a unique protective skin immune signature. Naik S, Bouladoux N, Linehan JL, Han S, Harrison OJ, Wilhelm C, Conlan S, Himmelfarb S, Byrd AL, Deming C, Quinones M, Brenchley JM, Kong HH, Tussiwand R, Murphy KM, Merad M, Segre JA, Belkaid Y. Nature. 2015 Jan 5. doi: 10.1038/nature14052. [Epub ahead of print]. PMID: 25539086.
Funding: NIH's National Institute of Allergy and Infectious Diseases (NIAID) and the Human Frontier Science Program.