You are here
November 21, 2011
Stroke Risk Factors Linked to Cognitive Problems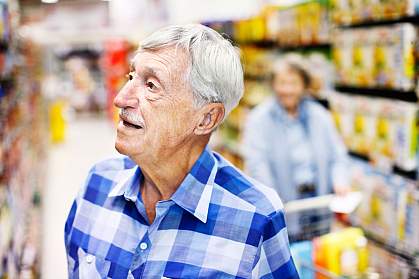 A new study found that high blood pressure and other known risk factors for stroke may also raise the risk of developing cognitive problems. The finding suggests that keeping blood pressure under control might help preserve cognitive health.
Strokes occur when blood vessels that supply the brain rupture or become blocked. When blood can't bring nutrients and oxygen to brain cells, the cells stop functioning and die. A stroke can cause a host of cognitive disabilities. These include effects on memory, speech and language, and everyday problem solving.
Even without suffering a stroke, people at risk for stroke might experience cognitive problems as their blood vessels deteriorate. The Reasons for Geographic and Racial Differences in Stroke study was funded by NIH's National Institute of Neurological Disorders and Stroke (NINDS) to analyze stroke risk and cognitive health. Since 2003, the nationwide study has followed more than 30,000 African American and Caucasian participants who were age 45 or older at enrollment. The study is led by Dr. George Howard at the University of Alabama at Birmingham.
For the latest analysis, the research team examined data on the nearly 24,000 study participants who had no history of cognitive impairment or stroke and no evidence of stroke during the study. At the start, the researchers assessed each person's stroke risk with the Framingham Stroke Risk Profile. The profile considers age, high blood pressure, diabetes and heart problems. The scientists assessed cognitive health with a 6-item screening test that required participants to give the year, month and day, and to remember 3 items from a list after a short delay. The test was repeated annually for an average of 4 years. Results appeared in the November 8, 2011, issue of Neurology.
Over the course of the study, more than 1,900 people without an evident stroke showed cognitive impairment. Baseline Framingham Stroke Risk score was associated with impairment. Age and left ventricular hypertrophy (LVH, an enlargement of the heart) independently predicted cognitive decline. Each 10-year increment in age doubled the risk of cognitive impairment. LVH increased the risk by about 30%.
Since LVH can result from high blood pressure, the researchers did a separate analysis excluding people with LVH. In this smaller group, high blood pressure proved to be an independent predictor of cognitive decline. Each systolic blood pressure increase of 10 mm Hg bumped up the risk of cognitive decline by 4%.
Consistent with a prior finding from the study, demographic risk factors for stroke were also risk factors for cognitive decline. Men, African Americans of both sexes, and residents of the Stroke Belt (Alabama, Arkansas, Georgia, Louisiana, Mississippi, North Carolina, South Carolina and Tennessee) had a higher risk of cognitive decline. Education was also a factor, with a higher level of education linked to a reduced risk of cognitive decline.
Those who experienced cognitive decline may have had silent strokes or other undetected changes that affect the brain's blood supply, says first author Dr. Frederick Unverzagt of the Indiana University School of Medicine in Indianapolis. "Our results emphasize the importance of early intervention to treat high blood pressure and preserve cognitive health prior to a stroke or other cerebral event," he says.
Related Links