You are here
December 4, 2006
Structured Exercise for Seniors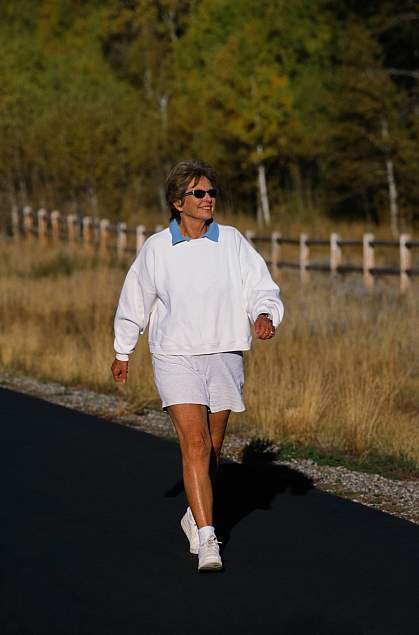 A structured exercise program may boost the physical well-being of sedentary seniors who are at risk of losing independent functioning, a new study has found. The study also showed that older adults can safely begin a program of moderate exercise.
The Short Physical Performance Battery (SPPB) is a standardized measure of physical performance. It's based on three assessments: walking speed, balance and the ability to rise from a chair. The SPBB has proven to be a good predictor of future physical disability. However, there hasn't been a conclusive study showing whether interventions can improve SPPB scores. The Lifestyle Interventions and Independence for Elders (LIFE) pilot study, supported by NIH's National Institute on Aging (NIA), set out to test whether a physical activity program could improve SPPB scores.
Dr. Marco Pahor of the University of Florida, Gainesville, and his colleagues at four field centers nationwide enrolled 424 people who exercised for fewer than 20 minutes a week, were 70-89 years old and had a low score on the SPBB. They also had to be able to walk 400 meters — about a quarter of a mile — within 15 minutes without sitting or using an assistive device such as a cane.
The researchers randomly assigned half the participants to a year-long physical activity program that involved individualized counseling and supervised exercises, including endurance, strengthening, flexibility and balance training. The other half — the control group — took part in a "successful aging" health education program that discussed nutrition, medications, foot care, preventive services and other health topics, and included instructor-led arm and shoulder flexibility exercises. The participants were followed for an average of 1.2 years.
The results were presented on November 17th at the Gerontological Society of America's annual scientific meeting and will be published in the November 2006 Journal of Gerontology: Medical Sciences. At six and 12 months, scientists found that average physical performance scores for the exercise group were significantly better than those of the control group. They also found that by the end of the trial, people in the exercise group were more likely to maintain their 400-meter walking speeds.
Dr. Jack M. Guralnik, acting chief of NIA's Laboratory of Epidemiology, Demography and Biometry, said, "Lower-extremity functioning is a very powerful marker for overall function and the risk of disability. This research suggests that a multifaceted program of aerobic, strength, balance and flexibility exercises can make a difference for older adults by significantly improving their walking ability."
These results are encouraging, but this pilot study wasn't large enough and didn't last long enough to reach a definitive conclusion. It did, however, confirm the feasibility and safety of testing this approach in a larger, more definitive study in the future.
Related Links