You are here
February 1, 2010
Subtypes of Deadly Brain Cancer Identified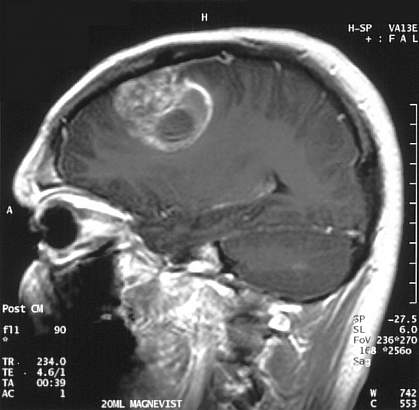 Christaras A, courtesy of Wikimedia.org.
The most common form of malignant brain cancer in adults, glioblastoma multiforme (GBM), has 4 distinct molecular subtypes, according to a new study. The finding may lead to more personalized approaches to treating GBM patients.
GBM is a fast-growing type of tumor. In recent years, 3 of every 100,000 Americans have been diagnosed with GBM—the highest incidence rate among malignant brain tumors. Most patients die of the disease within 14 months of diagnosis.
Like most cancers, GBM is believed to arise from changes that accumulate in cells' DNA over the course of a person's life. The Cancer Genome Atlas (TCGA) Research Network, launched in 2006, is a comprehensive and coordinated effort to explore the genomic changes involved in human cancer. It consists of more than 150 researchers at dozens of institutions across the nation. The network is funded by NIH's National Cancer Institute (NCI) and National Human Genome Research Institute (NHGRI).
TCGA scientists previously published a detailed view of GBM genomic changes. In the new study, they built on those findings and determined that GBM appears to have 4 distinct molecular subtypes. As reported on January 19, 2010, in Cancer Cell, the scientists associated 2 previously identified subtypes with specific genetic changes and identified 2 additional subtypes. The researchers also found that response to aggressive chemotherapy and radiation therapy differed by subtype.
The evidence suggests that the different GBM subtypes arise from different kinds of cells. This finding has potential clinical significance, since determining the types of cells that form GBM is critical for establishing effective treatments.
"The ability to differentiate GBM tumors based on their altered genetic code lays the groundwork for more effective treatment strategies to combat this deadly cancer," says NHGRI director Dr. Eric D. Green. "These findings demonstrate the power of using a cancer's genome to unravel the molecular changes that occur in the various cancer types."
"These new findings offer critical insights into stratifying patients based on the unique molecular characteristics of their disease," says NCI Director Dr. John E. Niederhuber. "As we learn more and more about the genetic underpinnings of cancer, we hope to achieve a similar level of molecular understanding for all cancers and eventually to generate recipes of highly targeted therapies uniquely suited to the individual patient."
Related Links