You are here
April 27, 2009
Surgical Reconstruction Offers No Benefit Over Bypass Surgery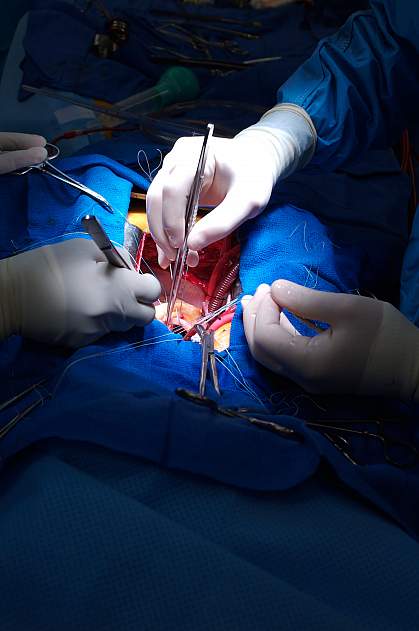 An extra surgery to reshape a damaged region of the heart does not further benefit heart failure patients undergoing bypass surgery, according to a large clinical trial.
Heart failure is a chronic and increasingly common illness marked by a weakened heart that can't pump enough blood to the body. Its leading cause is coronary artery disease, in which fatty deposits build up inside the coronary artery that feeds the heart. Most patients who have heart failure and coronary artery disease can improve through lifestyle changes and medications. But some must undergo coronary bypass surgery to restore blood flow through the coronary artery.
Small clinical studies previously suggested that a newer type of surgery, known as surgical ventricular reconstruction, might be paired with bypass surgery to reduce hospitalizations and improve heart function better than bypass surgery alone. The reconstruction surgery attempts to eliminate scarred and thinned portions of the heart's left ventricle and improve the heart's pumping action.
To evaluate the effectiveness of the additional surgery, NIH's National Heart, Lung and Blood Institute (NHLBI) launched the Surgical Treatment for Ischemic Heart Failure Trial (STICH). The study included 1,000 patients from 96 medical centers worldwide. About half were randomly assigned to undergo bypass surgery alone. The others received bypass surgery plus surgical ventricular reconstruction. At the start of the study, all had moderate to severe heart failure, scarring of the heart and poor functioning of the heart's left ventricle. All the patients also received intensive state-of-the-art medical therapy, including medications.
The results, reported in the April 23, 2009, issue of the New England Journal of Medicine, showed that reconstruction surgery successfully altered the heart's left ventricular volume, an indicator of the heart's pumping ability. However, this improvement did not translate into measurable benefits for patients.
After 4 years of follow-up, patients in both groups showed similar improvements in symptoms such as chest pain and the ability to exercise. In addition, the 2 groups had no significant differences in combined rates of death and heart-related hospitalizations. The group given bypass surgery alone had 292 deaths and hospitalizations, compared to 289 deaths and hospitalizations in the group that received the paired surgeries.
"The results of the STICH trial demonstrate that routine use of surgery to reconstruct the left ventricle does not improve survival or hospitalization over bypass surgery alone," says paper co-author Dr. George Sopko, a medical officer at NHLBI. "There is still much to learn from the rich source of information provided by this trial, and we look forward to additional analysis of the results as patients continue to be followed."
Related Links