You are here
July 12, 2010
Testosterone Boosts Heart Risk in Men with Poor Mobility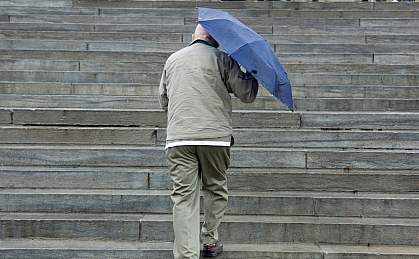 Daily treatments with a testosterone gel raised the risk of cardiovascular problems in older men with poor mobility. The adverse events were significant enough to bring an early halt to a clinical trial.
Reduced muscle strength as we age sometimes contributes to difficulties in walking, climbing stairs and other activities. Some studies have shown that testosterone treatment can strengthen muscles in healthy older men, but its effect on older men with mobility problems had not been known.
The Testosterone in Older Men Trial was designed to address this question. The researchers, led by Dr. Shalender Bhasin of Boston Medical Center, enrolled 209 men, ages 65 and older. All had low testosterone levels and mobility limitations, such as difficulty climbing 10 steps or walking 2 blocks. The men also tended to have chronic conditions, including diabetes, high blood pressure and obesity. Primary funding for the study came from NIH's National Institute on Aging (NIA), with additional support from NIH's National Center for Research Resources (NCRR) and other sources.
The men were randomly assigned to receive 6 months' treatment with either a testosterone gel or an inactive placebo gel. The gel was applied daily to the torso, abdomen or upper arms. Neither the men nor the clinical staff knew which gel each participant received.
During the trial, a panel of experts reviewed the study's safety. In December 2009, they found that 23 of the 106 men in the testosterone group had experienced cardiovascular-related events, compared to 5 of the 103 men who received placebo. The events included heart attack, elevated blood pressure and stroke, as well as one death from a suspected heart attack. The panel weighed the severity of the negative side effects against potential benefits. They recommended that the men stop taking testosterone and that enrollment be halted before reaching the planned number of 252 participants.
Detailed findings were reported in the July 8, 2010 edition of the New England Journal of Medicine. The scientists note that the increased cardiovascular risk in the testosterone group continued during the 6-month treatment period and did not decline during the 3-month observation period that followed. Overall, significantly more men in the testosterone group had heart, lung and skin problems during the study.
Among the men whose strength or physical function was assessed, the testosterone group showed significantly greater improvements in leg-press strength, chest-press strength, and stair-climbing while carrying a load compared to the placebo group. However, no significant differences were seen between the 2 groups in walking speed or stair-climbing without a load.
The authors caution that it's difficult to draw broad conclusions about the safety of testosterone therapy based on this relatively small study. They note that participants were older and had higher rates of chronic diseases and mobility limitations than people in most other studies. Further research will be needed to clarify the safety issues raised by this clinical trial.
Related Links