You are here
January 14, 2013
Therapy Shows Promise for Peanut Allergy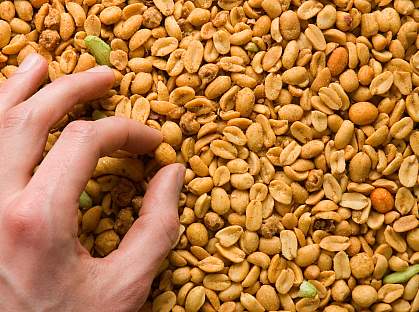 A liquid therapy placed underneath the tongues of people with peanut allergy can reduce their sensitivity to peanuts, a new study found. With further development, the experimental technique could make life easier for people whose only current option is to avoid everything that contains peanuts.
Food allergy comes about when the immune system responds to a harmless food as if it were a threat. Symptoms can range from hives and itching to a life-threatening condition called anaphylaxis, which can involve throat swelling, a sudden drop in blood pressure, trouble breathing, fainting and dizziness.
In both children and adults, peanuts are one of the most common foods to cause allergic reactions. About 3 out of every 500 people in the United States are allergic to peanuts. The only way to prevent the symptoms of food allergy is to avoid the food altogether. But it's difficult to completely avoid exposure to peanuts and all the products made with them.
Recent studies have found that oral immunotherapy may hold promise for treating food allergy. A research team led by Dr. David M. Fleischer of National Jewish Health in Denver and Dr. A. Wesley Burks at the University of North Carolina set out to test whether an approach called sublingual immunotherapy could be used to treat peanut allergy. The medically supervised therapy involves placing a small amount of the allergy-causing substance (allergen) under the tongue to decrease the body's sensitivity to the allergen.
The scientists enrolled 40 people, ages 12 to 37 years, with peanut allergy. All were on a peanut-free diet. After an initial food challenge to measure how much peanut powder they could eat without having an allergic reaction, participants were randomly assigned to receive sublingual immunotherapy or placebo. The therapy group received escalating doses of peanut powder every 2 weeks until a maintenance dose was reached. The trial was funded by NIH's National Institute of Allergy and Infectious Diseases (NIAID), National Center for Research Resources (NCRR) and National Center for Advancing Translational Sciences (NCATS). Results appeared in the January 2013 issue of the Journal of Allergy and Clinical Immunology.
The researchers found that 14 of the 20 participants (70%) given peanut immunotherapy were able to consume at least 10 times more peanut powder after 44 weeks of daily therapy than they could at the beginning of the study. In contrast, only 3 of the 20 participants (15%) given placebo could safely consume such an increase. After 68 weeks, those on immunotherapy could consume significantly more peanut powder without having an allergic reaction than those given placebo. The therapy caused only minor side effects, such as itching in the mouth.
With more work, the scientists hope that sublingual immunotherapy could protect people from unintentional exposure to peanuts. "These results are encouraging," Burks says. "The immune response was stronger than we thought it might be, and the side effects of this treatment were relatively small. However, the magnitude of the therapeutic effect was somewhat less than we had anticipated. That's an issue we plan to address in future studies."
This is one of several federally funded trials currently testing immune-based approaches to food allergy. The researchers caution that people should not try any of these techniques on their own because they carry a significant risk for allergic reactions. These therapies should be administered only under the guidance of trained clinicians.
— by Harrison Wein, Ph.D.
Related Links
References: J Allergy Clin Immunol. 2013 Jan;131(1):119-127.e7. doi: 10.1016/j.jaci.2012.11.011. PMID: 23265698.