You are here
October 29, 2019
Tiny bleeds associated with disability after brain injury
At a Glance
People who had traumatic microbleeds that could be seen on MRI scans were twice as likely to experience disability after a traumatic brain injury.
More than a quarter of people admitted to trauma centers with mild brain injuries had traumatic microbleeds.
The ability to spot such microbleeds could provide new opportunities to test treatments to protect brain tissue after a traumatic injury.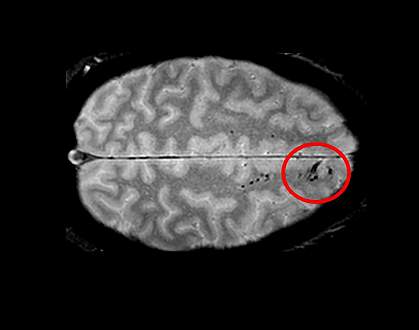 Latour Lab/NINDS
More than 2 million people nationwide suffer a traumatic brain injury (TBI) every year. Causes include motor vehicle accidents, falls, and violence. Although most people with a TBI will recover, over 3 million currently live with some level of disability caused by their injury.
The initial severity of a brain injury doesn't always predict who will experience disability. Many people with a TBI classified as mild still have life-long effects from their injury.
Researchers have wondered if a type of tiny abnormality seen on MRI in some people with TBI may be associated with long-term disability. Some scientists proposed that these tiny spots or lines, called traumatic microbleeds (TMBs), are caused by the tearing of nerve cells in the brain. Others suggested that they represent damage to blood vessels. The relationship between TMBs and long-term disability has been unclear.
To more closely examine this relationship, a research team led by Dr. Lawrence Latour from NIH's National Institute of Neurological Disorders and Stroke (NINDS) used MRI to examine the brains of 439 people who were admitted to trauma centers with a TBI. Participants underwent MRI imaging within 48 hours of their initial injury. About half also returned for follow-up scans, up to 3 months afterwards.
The researchers compared the risk of disability between people with and without TMBs. One participant died of an unrelated cause seven months after his initial MRI, and his family donated his brain to the study. The scientists used the brain to compare actual tissue changes to TMB spots and lines seen on his MRI images.
The study was funded in part by NINDS and the NIH Clinical Center. Results were published on October 14, 2019, in Brain.
About 31% of all participants had TMBs on their MRI scans. These abnormalities were not confined to people with severe brain injuries: 27% of people with mild TBI and 47% of people with moderate TBI had evidence of TMBs.
People with TMBs immediately after their injury were twice as likely to report disability 30 and 90 days afterwards than people with no TMBs. Microbleeds were associated with disability independent of other known risk factors, including severity of the overall brain injury and damage seen on CT scans.
Imaging and dissection of the donated brain found evidence of damage to the blood vessels at the sites of TMBs. The researchers did not see nerve cell damage. Because only one brain was available for tissue studies, the researchers could not rule out nerve cell damage playing a role in some TMBs.
The findings suggest that people with TMBs may be candidates for treatment with drugs that target damaged blood vessels.
"Traumatic microbleeds may represent injury to blood vessels that occur following even minor head injury," Latour says. "While we know that damage to brain cells can be devastating, the exact impact of this vascular injury following head trauma is uncertain and requires further study."
Related Links
References: Traumatic microbleeds suggest vascular injury and predict disability in traumatic brain injury. Griffin AD, Turtzo LC, Parikh GY, Tolpygo A, Lodato Z, Moses AD, Nair G, Perl DP, Edwards NA, Dardzinski BJ, Armstrong RC, Ray-Chaudhury A, Mitra PP, Latour LL. Brain. 2019 Oct 14. pii: awz290. doi: 10.1093/brain/awz290. [Epub ahead of print]. PMID: 31608359.
Funding: NIH's National Institute of Neurological Disorders and Stroke (NINDS) and Clinical Center; Department of Defense; Center for Neuroscience and Regenerative Medicine; Crick-Clay Professorship; Mathers Foundation.