You are here
May 12, 2014
Treatment Cuts Children's Urinary Infections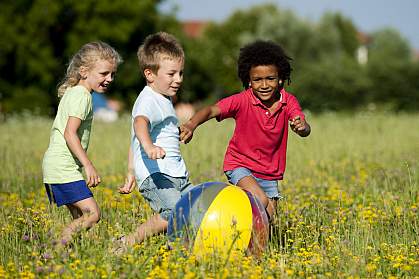 A long-term antimicrobial treatment can reduce the risk of recurrent urinary tract infection by up to 80% in children with the condition vesicoureteral reflux, according to a new study.
Vesicoureteral reflux is found in 30-40% of children who've had a urinary tract infection. The condition is caused by abnormal flow of urine back from the bladder into the ureters—the tubes that connect the kidneys with the bladder. This backflow can result in scarring and the potential for kidney failure. Vesicoureteral reflux stems from developmental abnormalities in one or both ureters.
For decades, doctors have treated children who have vesicoureteral reflux with small daily doses of an antimicrobial drug combination, trimethoprim (TMP) and sulfamethoxazole (SMZ), in hopes of preventing recurrent urinary tract infections and kidney damage. This treatment, called antimicrobial prophylaxis, can last for years. The Randomized Intervention for Children with Vesicoureteral Reflux (RIVUR) trial aimed to test the effectiveness of this practice.
The study enrolled more than 600 children with vesicoureteral reflux after a urinary tract infection. Their ages ranged from 2 months to nearly 6 years. The children were randomized to receive either the TMP/SMZ drug combination or an inactive placebo. The 2-year study was conducted at 19 locations nationwide. The work was funded by NIH's National Institute of Diabetes and Digestive and Kidney Diseases (NIDDK). Results appeared online on May 4, 2014, in the New England Journal of Medicine.
The researchers found that the drug combination reduced the risk of recurrent infection by about 50%. Recurrent urinary tract infections developed in 39 of 302 children in the treatment group and 72 of 305 children in the placebo group. Children with bladder and bowel dysfunction, who are more likely to have recurrent urinary infections, saw the greatest benefit, with almost an 80% lower risk of recurrent infections.
While the treatment significantly reduced recurrent infections, it didn't decrease the number of children who developed kidney scarring. Overall rates of scarring in the study, however, were low. This may be due to parents' heightened vigilance for urinary tract infections and early treatments in the trial. Most of the children were also enrolled after their first infection rather than after multiple infections, when more scarring might occur.
The researchers tested whether E. coli in the children were resistant to TMP/SMZ. More children in the treatment group were found to harbor resistant bacterial strains (63% vs. 19% in the placebo group). Other antibiotic treatments weren't tested in this study, but could have different effects and might be used to address this problem in the future.
"We are looking deeper into the data from the RIVUR trial to gain further insight into other factors that may reduce susceptibility to recurrent infections and scarring," says study co-author Dr. Marva Moxey-Mims, a pediatric kidney specialist at NIDDK. "In the meantime, we can buy children some time with fewer infections, allowing many of them to outgrow reflux as their bodies develop and mature."
Related Links
References: Antimicrobial Prophylaxis for Children with Vesicoureteral Reflux. The RIVUR Trial Investigators. N Engl J Med. 2014 May 4. [Epub ahead of print]. PMID: 24795142.
Funding: NIH's National Institute of Diabetes and Digestive and Kidney Diseases (NIDDK) and National Center for Advancing Translational Sciences (NCATS).