You are here
November 3, 2008
Warm Hands, Warm Feelings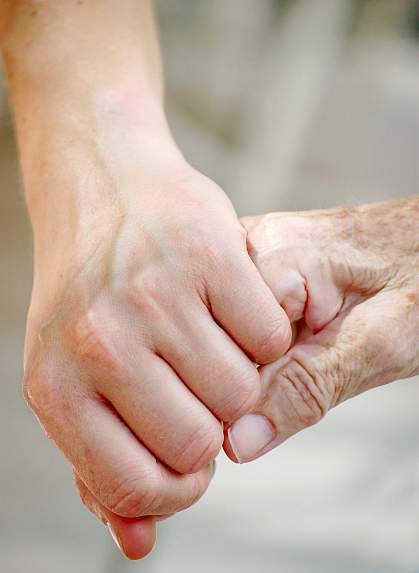 We often use terms like "warm" and "cold" to describe people. New research shows this may not just be a linguistic oddity; sensations and psychological concepts are actually linked in our minds.
Recent studies have found that the same region of the brain, the insular cortex, is involved in both our physical and our psychological ideas of warmth. Dr. Lawrence E. Williams, now at the University of Colorado at Boulder, working with Dr. John A. Bargh at Yale University, decided to further explore the connection between our perceptions of physical and psychological warmth. Their investigations were supported by NIH's National Institute of Mental Health (NIMH), the National Science Foundation and Yale.
The researchers began by recruiting 41 undergraduates. Each participant was met in the building lobby by a woman carrying a cup of coffee, a clipboard and 2 textbooks. During the elevator ride up, she casually asked the participants to hold her cup for a second while she recorded their names and the time. Half of the participants were given a cup of hot coffee and half iced coffee.
Upstairs, the participants were given a questionnaire about someone who was described as intelligent, skillful, industrious, determined, practical and cautious. They were asked to rate the person on 10 personality traits, half of which were related to warm-cold ideas and half to concepts unrelated to temperature.
The researchers reported in the October 24, 2008, issue of Science that the described person was perceived to be significantly warmer by participants who had briefly held the hot coffee cup than by those who'd held the iced coffee. The coffee temperature didn't affect the ratings on any traits that weren't related to warm/cold ideas.
The researchers then wanted to test whether physical perceptions of heat could affect behavior. They asked a separate group of 53 people to briefly hold either a hot or cold therapeutic pad, telling them it was for a product evaluation. After the participants rated the effectiveness of the pad, they were given a choice of reward for participating. Half chose between either a Snapple beverage for themselves or a $1 ice cream gift certificate for a friend. The other half chose between either a Snapple for a friend or an ice cream for themselves.
Regardless of whether the gift was a Snapple or an ice cream certificate, the participants primed with physical coldness were more likely to choose the gift for themselves (75% to 25%). Those primed with physical warmth, in contrast, were more likely to choose the gift for a friend (54% vs. 46%).
The researchers concluded that our experience of physical temperature affects our impressions of, and behavior toward, other people without us even being aware of it. This idea has many practical implications. "At a board meeting, for instance," Williams explained, "being willing to reach out and touch another human being, to shake their hand, those experiences do matter although we may not always be aware of them."
— by Harrison Wein, Ph.D.
Related Links