You are here
March 2, 2009
Weight Loss Depends on Less Calories, Not Nutrient Mix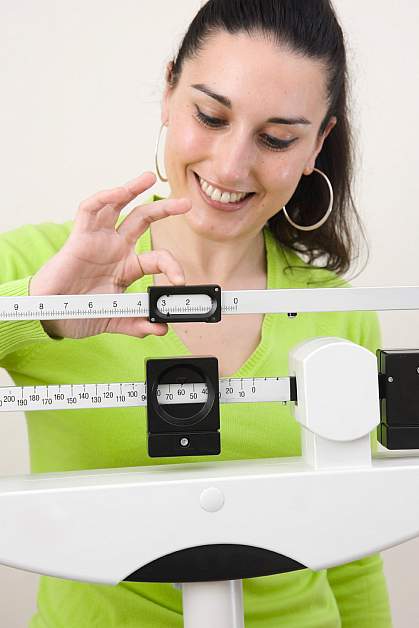 Heart-healthy diets that reduce calorie intake—regardless of differing proportions of fat, protein or carbohydrate—can help overweight and obese adults achieve and maintain weight loss, according to a new study.
You're considered overweight if your body mass index (BMI)—a ratio of weight to height—is greater than 25 and less than 30. Those with a BMI of 30 or higher are considered to be obese. Sixty-six percent of American adults are overweight and of those, 32% are obese, according to the Centers for Disease Control and Prevention.
Researchers funded by NIH's National Heart, Lung and Blood Institute (NHLBI) recruited 811 overweight and obese adults, aged 30 to 70, and assigned them to 1 of 4 diets. The participants didn't have diabetes or severe heart disease but could have had other risk factors, such as high blood pressure or high cholesterol. The research was done at the Harvard University School of Public Health in Boston and at the Pennington Biomedical Research Center of Louisiana State University in Baton Rouge. The diets were adapted to the diverse cuisines from these 2 regions of the country.
The 4 diets all had the same calorie reduction goals and were heart-healthy—which means they were low in saturated fat and cholesterol and high in dietary fiber. However, they varied in their levels of fat, protein and carbohydrate. The 4 diets were: 1) low-fat (20% of calories), average protein (15% of calories); 2) low-fat, high-protein (25% of calories); 3) high-fat (40% of calories), average protein; and 4) high-fat, high-protein. Carbohydrates ranged from 35% to 65% of calories.
The participants were asked to record their food intake in a diary or an online tool that showed how intake compared with goals. Group diet counseling sessions were held at least twice per month throughout the 2 years of the study, and individual sessions were held every 8 weeks. The participants were given personalized calorie goals, ranging from 1,200 to 2,400 calories per day, that reduced their overall caloric intake. They were also asked to do moderate-intensity physical activity, such as brisk walking, for at least 90 minutes per week.
The researchers reported on February 26, 2009, in the New England Journal of Medicine that they saw similar weight loss in all 4 diet groups after 6 months and also after 2 years. On average, participants lost 13 pounds at 6 months and maintained a 9 pound loss at 2 years. The participants also reduced their waistlines by 1 to 3 inches by the end of the study. Craving, fullness, hunger and diet satisfaction were similar across the 4 diets. 
Previous studies have shown that a loss of 5-10% of body weight will help reduce risk factors for heart disease and other medical conditions. In this study, 15% of patients achieved a 10% weight loss after 2 years. Consistent with previous studies, the diets all improved several known risk factors for cardiovascular disease.
"This new information should focus weight loss approaches on reducing calorie intake rather than any particular proportions of fat, protein or carbohydrate," says principal investigator Dr. Frank M. Sacks of the Harvard School of Public Health.
Related Links