You are here
February 2, 2009
Weight Loss in Women Can Reduce Urinary Incontinence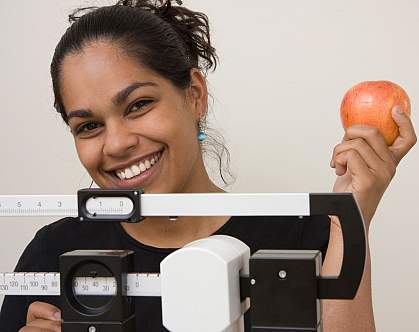 Reducing urinary incontinence can now be added to the long list of health benefits from weight loss, according to results from a new clinical trial.
Urinary incontinence is the unintentional release of urine. It affects more than 13 million women in the United States and accounts for an estimated $20 billion in annual health care costs. Incontinence can happen to anyone, but it's more common in women and older people. Obesity has been linked to urinary incontinence in the past. However, conclusive evidence that losing weight can reduce urinary incontinence has been lacking.
The Program to Reduce Incontinence by Diet and Exercise (PRIDE) study was funded by NIH's National Institute of Diabetes and Digestive and Kidney Diseases (NIDDK) and Office of Research on Women's Health (ORWH). The researchers, led by Dr. Leslee L. Subak of the University of California, San Francisco, recruited 338 obese and overweight women who leaked urine at least 10 times per week. Half the women were randomly assigned to an intensive 6-month weight-loss program of diet, exercise and behavior modification. The other half received information about diet and exercise, but no training to help them change their habits.
The researchers reported in the January 29, 2009, issue of the New England Journal of Medicine that women in the intensive weight-loss group lost an average 8% of their body weight (about 17 pounds) over 6 months. The number of weekly urinary incontinence episodes among these women was reduced by half. In contrast, women in the information-only group lost an average 1.6% of body weight (about 3 pounds) and had 28% fewer episodes.
About 41% of the women in the weight-loss group achieved a clinically relevant reduction of at least 70% of total incontinence episodes per week, compared to 22% of women in the information-only group. Women in the weight-loss group were also significantly more satisfied with the change in their incontinence than women in the information-only group.
Losing weight is already known to lower the risk of type 2 diabetes, high blood pressure and high cholesterol levels, as well as enhance mood and quality of life. "Our results suggest that a decrease in urinary incontinence is another health benefit associated with weight loss and that weight reduction can be a first-line treatment in overweight and obese women," Subak said.
Related Links