You are here
October 25, 2010
Where Kids Get Their Empty Calories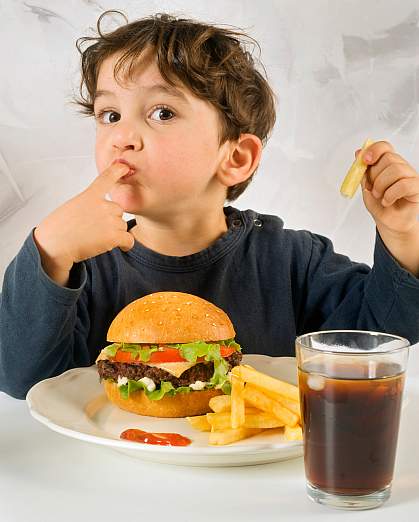 Nearly 40% of the energy consumed by 2- to 18-year-olds comes in the form of "empty" calories—those from solid fats and added sugars—a new study has found. Half of those empty calories come from the solid fats and added sugars in just 6 sources: soda, fruit drinks, dairy desserts, grain desserts, pizza and whole milk.
Over the past 3 decades, childhood obesity rates in America have tripled. Today, nearly 1 in 3 children nationwide is overweight or obese, which increases the likelihood of developing diabetes, heart disease, high blood pressure, cancer and asthma.
The growing weight problems of our nation's children stem from a combination of greater energy consumption (counted in calories) and less physical activity. The solution to childhood obesity will involve changes in both diet and physical activity. The best way to cut energy intake is to limit unnecessary empty calories.
To help limit the empty calories children are consuming, doctors and policy makers first need a better understanding of where the calories come from. Drs. Jill Reedy and Susan M. Krebs-Smith of NIH's National Cancer Institute (NCI) set out to examine the sources of total energy and empty calories in American children's diets.
The researchers used data from the Centers for Disease Control and Prevention's National Health and Nutrition Examination Survey, which gathered information on the diets of over 14,000 children from 2 to 18 years old. The results appeared in the October 2010 issue of the Journal of the American Dietetic Association.
The researchers found that nearly 40% of the children's total energy came from empty calories. In contrast, experts recommend that children limit their intake of empty calories to between 8% and 20% of their total calories. Sugar-sweetened beverages, a major source of empty calories, contributed a whopping 10% of total energy.
Overall, the top 5 sources of energy for children were grain desserts (cakes, cookies, donuts, pies, crisps, cobblers and granola bars), pizza, soda, yeast breads and chicken dishes. Not surprisingly, the major sources of energy varied by age group. For instance, beef was a top source for 14- to 18-year-olds, but not for younger children.
Major energy sources also varied by ethnicity. For example, non-Hispanic children consumed more energy from sugar-sweetened beverages (soda and fruit drinks) than from milk, whereas Mexican Americans consumed more energy from milk than from sugar-sweetened beverages.
Studies have shown that interventions can successfully help people change their diets. But the researchers emphasize the importance of reducing the number of empty calories in the food supply in the first place. "It's unreasonable to expect people to be able to change their eating behaviors when so many forces in the environment conspire against making healthy choices," Reedy says. These findings suggest that sugar-sweetened drinks should be a major target of efforts to improve our children's health.
—by Harrison Wein, Ph.D.
Related Links