You are here
Our Biggest Health Challenges
Infectious Diseases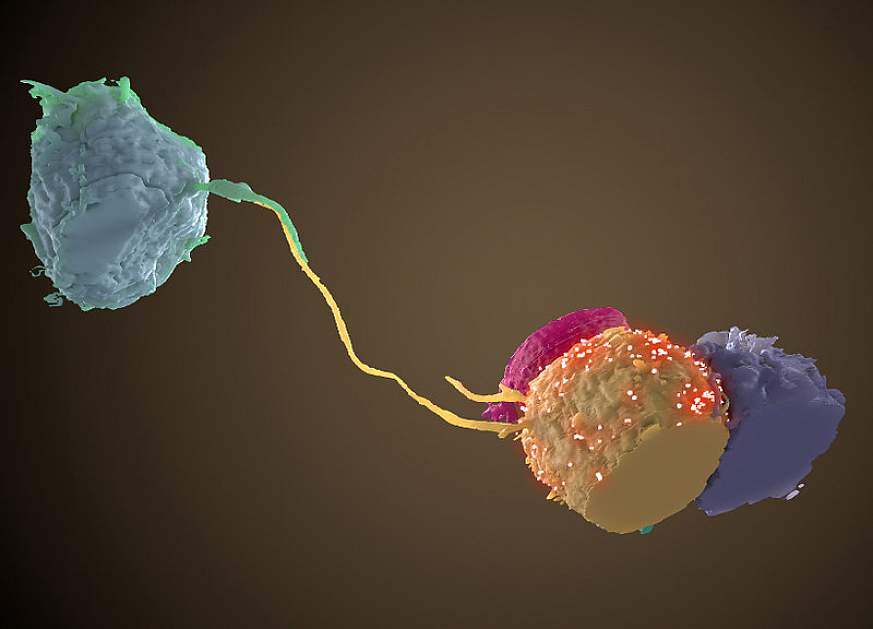 Donald Bliss, National Library of Medicine; Sriram Subramaniam, NCI
Each year, about 23 million Americans visit a doctor's office or clinic seeking treatment for infections. Unlike many disorders, we know the exact source of most infectious diseases and in many cases, we have vaccines and treatments to fight them. One area of particular concern is antimicrobial resistance, a potentially deadly situation in which bacteria become resistant to most or all antibiotic drugs. We recognize this urgent threat, and our scientists are working to better understand how microbes develop resistance to antibiotics, finding new diagnostics that can more quickly detect resistance, and finding new antibiotic drugs and vaccines to prevent and treat bacterial infections.
But because no one knows when a new or re-emerging infectious disease will arrive and how dangerous it may become, NIH must remain vigilant and prepared with prevention strategies, such as the ability to launch rapid vaccine production. Readiness for such unwelcome health surprises also involves ongoing basic research on micro-organisms and the human immune system. The Ebola virus, which ravaged West Africa in 2013, killed more than 10,000 people and severely strained regional socioeconomic stability. When this crisis hit the world, NIH – home to the nation's largest medical research hospital – jumped into action as one of four designated U.S. research hospitals to care for infected health care workers. NIH scientists worked to rapidly test a promising preventive vaccine and experimental Ebola treatment.
Good Health for All
Since HIV/AIDS first appeared in the early 1980s, more than 70 million infections and 30 million deaths have occurred worldwide. Yet, after decades of intense work by NIH and other organizations, and with continued persistent effort, there is a real possibility of an AIDS-free generation in which virtually no child is born with HIV. NIH research has already enabled HIV-infected individuals to have a normal lifespan without medication-related side effects once considered unmanageable, as well as how to prevent the spread of HIV. If we can find and treat all HIV-infected people in the United States, we could prevent more than 90 percent of new infections every year. An effective HIV vaccine would get us to an AIDS-free generation sooner and, more importantly, would help sustain the result to create a world permanently without HIV/AIDS. An HIV vaccine that is even 50 to 70 percent effective, coupled with other proven HIV prevention tools, would be immensely effective at reducing the rate of new HIV infections.
This page last reviewed on November 16, 2023