You are here
January 26, 2021
Acute heart transplant rejection detected earlier with new test
At a Glance
Researchers found that a blood test can detect signs of acute heart transplant rejection earlier than more invasive tissue biopsies, the current standard.
The results suggest that the test could eliminate up to 80% of invasive biopsies currently used to detect rejection.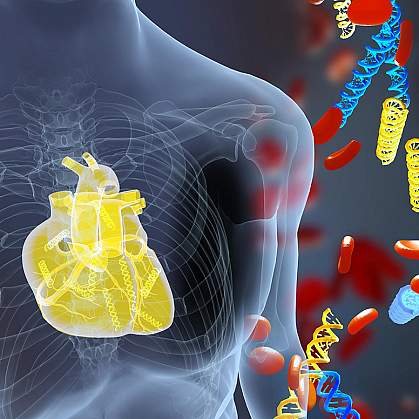 Erina He, NIH Medical Arts
An organ transplant can be a lifesaving procedure. But the body's immune system sometimes attacks transplanted organs. This reaction is called rejection. Acute, or rapid, rejection usually happens in the first year after transplantation. Chronic rejection can occur after years.
Current tests used to detect heart transplant rejection rely on frequent and painful biopsies of heart tissue. Those biopsies run the risk of damaging the heart and are limited both by their invasiveness (ability to obtain tissue samples) and reliability for detecting acute rejection.
A newer test, called the donor-derived cell-free DNA (ddcf-DNA) test, tracks DNA markers from the donor organ that appear in the recipient's blood. Injured or dying cells from the donor organ release DNA fragments into the bloodstream. These can then be detected in a blood test. Previous work found that higher amounts of donor DNA may indicate a higher risk for heart transplant rejection in the recipient.
A research team led by Dr. Hannah Valantine of NIH's National Heart, Lung and Blood Institute (NHLBI) set out to validate the ddcf-DNA test for detecting acute rejection of heart transplants. They carried out a study of 165 people who had recently undergone heart transplantation at one of five regional transplant centers around the Washington, D.C. metropolitan area.
The researchers monitored the patients for signs of acute rejection for nearly 18 months using both the traditional heart tissue biopsy and the new blood test. Results were published on January 13, 2021 in Circulation.
The team found that the blood test performed better than tissue biopsy. It detected organ rejection as early as 28 days after heart transplantation and at least three months before rejection was detectable using heart tissue biopsy. The amount of donor DNA detected by the blood test could also reveal the severity of organ rejection.
There are two types of acute organ rejection, each requiring different treatment approaches: acute cellular rejection (ACR) and antibody-mediated rejection (AMR). AMR is one of the deadliest forms of rejection and the hardest to treat and diagnose. Increases in ddcf-DNA were detected earlier for AMR than ACR. In addition, the length and composition of DNA fragments were different for AMR and ACR. This suggests a way to distinguish between the underlying causes of organ rejection.
"There's an urgent need for an alternative method to monitor patients for acute heart transplant rejection. This test is sensitive and reliable and directly addresses the limitations of biopsy," says NHLBI's Dr. Sean Agbor-Enoh, a study co-author.
"This test will not completely eliminate the need for invasive procedures, but it can eliminate about 80% of the biopsies currently performed after heart transplant," says Dr. Palak Shah, a co-author at Inova Heart and Vascular Institute.
The results suggest that the ddcf-DNA test may be a useful tool for monitoring heart transplant patients for early stages of rejection. However, clinical trials are needed to confirm these findings and further validate the test's safety and efficacy.
Related Links
References: Cell-Free DNA to Detect Heart Allograft Acute Rejection. Agbor-Enoh S, Shah P, Tunc I, Hsu S, Russell S, Feller E, Shah K, Rodrigo ME, Najjar SS, Kong H, Pirooznia M, Fideli U, Bikineyeva A, Marishta A, Bhatti K, Yang Y, Mutebi C, Yu K, Jang MK, Marboe C, Berry GJ, Valantine HA; GRAfT Investigators. Circulation. 2021 Jan 13. doi: 10.1161/CIRCULATIONAHA.120.049098. Online ahead of print. PMID: 33435695.
Funding: NIH'S National Heart, Lung and Blood Institute (NHLBI); American Heart Association; Enduring Hearts Foundation.