You are here
January 26, 2021
Physician-pharmacist collaboration may improve care for opioid addiction
At a Glance
In a pilot trial, a team approach to treating opioid use disorder that relies heavily on community pharmacists was effective and convenient.
Collaboration between pharmacists and physicians may help improve treatments for opioid addiction.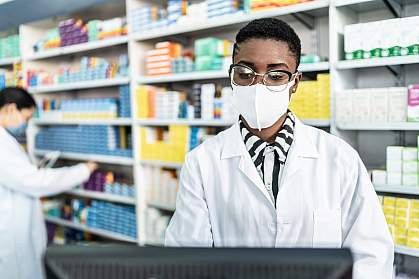 FG Trade / E+ via Getty Images
Each day, more than 130 people die from opioid overdoses. Opioids are a class of drugs that include prescription pain relievers like oxycodone. They also include illegal drugs like heroin. In 2019, 1.6 million Americans had an opioid addiction. This is also known as opioid use disorder. Yet effective medications—like buprenorphine, methadone, and naltrexone—are prescribed to only a fraction of people with opioid use disorder.
Patients often receive such medications in an opioid treatment program. Methadone, for example, can only be given in a certified treatment program. Primary care physicians can apply for a waiver to prescribe buprenorphine. However, less than 10% of U.S. primary care providers have a buprenorphine waiver. Given the limited number of patients that each physician can treat, involving pharmacists in opioid treatment may improve access.
A pilot study led by Dr. Li-Tzy Wu of Duke University evaluated a team-based approach for treating opioid use disorder. The collaborative model involved primary care physicians and community pharmacists in the Raleigh-Durham area of North Carolina. The study was funded by NIH's National Institute on Drug Abuse (NIDA). Findings were published in Addiction on January 11, 2021.
The researchers enrolled 71 participants receiving buprenorphine treatment. Six physicians and six pharmacists took part in the trial. Participants were first treated by physicians, who evaluated the patients and determined the appropriate daily dose of the medication. Care was then transferred to a community pharmacist.
Pharmacists met with patients monthly to dispense the medication and assess how well the drug was working. Pharmacists monitored opioid withdrawal symptoms, checked whether patients were attending counseling, and performed a urine drug screen. The pharmacists also communicated regularly with the physicians about patient progress.
Nearly 89% of participants remained in the study, and 95% adhered to their daily medication schedule. No opioid-related emergencies or hospitalizations were reported during the six-month study.
The participants, physicians, and pharmacists all reported high rates of satisfaction with the program. Over 90% of participants reported being very satisfied with the quality and ease of treatment. They noted that holding visits in the same place they received their medication was extremely convenient.
"Collaboration between physicians and community pharmacists represents a promising approach to increasing access to medications for opioid use disorder and improving patient care," says NIDA Director Dr. Nora D. Volkow.
These findings support the further use of physician-pharmacist teams to deliver treatment for opioid addiction. Larger clinical trials are needed to evaluate the most effective strategies for team-based buprenorphine care.
Related Links
References: Buprenorphine physician-pharmacist collaboration in the management of patients with opioid use disorder: results from a multisite study of the National Drug Abuse Treatment Clinical Trials Network. Wu LT, John WS, Ghitza UE, Wahle A, Matthews AG, Lewis M, Hart B, Hubbard Z, Bowlby LA, Greenblatt LH, Mannelli P; Pharm-OUD-Care Collaborative Investigators. Addiction. 2021 Jan 11. doi: 10.1111/add.15353. PMID: 33428284.
Funding: NIH's National Institute on Drug Abuse (NIDA)