You are here
August 22, 2023
Ancestry and descendants of African Americans buried at Catoctin Furnace
At a Glance
DNA analysis of people buried in an early African American cemetery revealed their ancestry and descendants in the United States.
The study shows the potential for ancient DNA to uncover the histories of people when written records are lacking.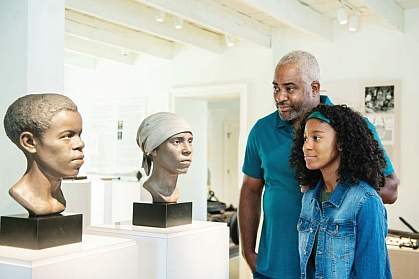 Visit Frederick – Maryland
For the descendants of enslaved Africans in the United States, tracing family history can prove challenging. Enslaved people were often left out of written records. Genetic analysis based on ancient DNA may help restore knowledge of these and other marginalized peoples.
Catoctin Furnace was an iron works in Maryland built in the late 18th century. Among other products, the furnace produced munitions used during the Revolutionary War. Hundreds of enslaved and free African Americans labored there. Some operated the furnace, while others worked in the furnace owners' households and plantations. Many were buried in a cemetery near the furnace after their deaths. The cemetery was excavated in 1979-1980 during highway construction. The Smithsonian Institution now holds the remains. The burials span the years 1774-1850, after which the furnace switched to employing paid, mostly White workers.
Two organizations—the Catoctin Furnace Historical Society and the African American Resources Cultural and Heritage Society of Frederick County—have been working to learn about the history and legacy of the furnace workers. As part of this effort, an NIH-funded research team led by Dr. David Reich of Harvard Medical School, in collaboration with the Smithsonian Institution and 23andMe, Inc., recovered and analyzed DNA from 27 people buried at Catoctin Furnace. Their findings appeared in Science on August 4, 2023.
The researchers identified five genetic families—groups of biologically closely related people—among those buried. These mostly consisted of mothers, children, and siblings. No father/child relationships were identified. Close genetic relatives tended to be buried near one another.
The researchers estimated all but one of the buried individuals to have mostly African ancestry. Seven had no detectable European ancestry. The rest had varying amounts of European ancestry.
The team next compared segments of DNA between the Catoctin samples and a database of about 9.3 million people maintained by 23andMe, Inc. In this way, the researchers identified almost 42,000 genetic relatives of the Catoctin individuals. Nearly 3,000 of these shared a particularly strong genetic relationship with the Catoctin individuals. Further work will be required to distinguish between direct descendants and other types of close relatives. 
The Catoctin individuals showed strong genetic connections to particular African groups. These included the Wolof and Mandinka of Senegal and Gambia, and the Kongo of Angola and the Democratic Republic of the Congo. Among Europeans, the Catoctin individuals had the strongest connections to people from Great Britain and Ireland. Genetic relatives were spread throughout the United States but were concentrated in the southeastern U.S. These included 30 close relatives in Maryland. This suggests that some relatives of the Catoctin individuals remained in, or returned to, the area.
Three Catoctin individuals carried copies of the gene variant associated with sickle-cell disease. Four carried copies of the variant associated with glucose-6-phosphate dehydrogenase deficiency, which affects red blood cells. Both of these genetic diseases disproportionately affect people with sub-Saharan African ancestry.
"This study is an example of deploying scientific tools to address questions of long-standing interest to African Americans, at the community's request," says co-author Dr. Henry Louis Gates Jr. of Harvard. "It is a tool for empowerment of African Americans, rather than exploitation of a vulnerable population. I think it is a model of engagement to be emulated."
—by Brian Doctrow, Ph.D.
Related Links
References: The genetic legacy of African Americans from Catoctin Furnace. Harney É, Micheletti S, Bruwelheide KS, Freyman WA, Bryc K, Akbari A, Jewett E, Comer E, Gates HL Jr, Heywood L, Thornton J, Curry R, Esselmann SA, Barca KG, Sedig J, Sirak K, Olalde I, Adamski N, Bernardos R, Broomandkhoshbacht N, Ferry M, Qiu L, Stewardson K, Workman JN, Zalzala F, Mallick S, Micco A, Mah M, Zhang Z; Rohland N, Mountain JL, Owsley DW, Reich D; 23andMe Research Team. Science. 2023 Aug 4;381(6657):eade4995. doi: 10.1126/science.ade4995. Epub 2023 Aug 4. PMID: 37535739.

Ethical considerations when co-analyzing ancient DNA and data from private genetic databases. Harney É, Sirak K, Sedig J, Micheletti S, Curry R, Ancona Esselmann S, Reich D. Am J Hum Genet. 2023 Jul 26:S0002-9297(23)00212-4. doi: 10.1016/j.ajhg.2023.06.011. Online ahead of print. PMID: 37541241.
Funding: NIH's National Human Genome Research Institute (NHGRI) and National Institute of General Medical Sciences (NIGMS); John Templeton Foundation; Howard Hughes Medical Institute; Maryland Heritage Areas Authority; Rice Family Endowment for Forensic Anthropology.