You are here
August 27, 2012
Antibodies Protect Against Range of Flu Viruses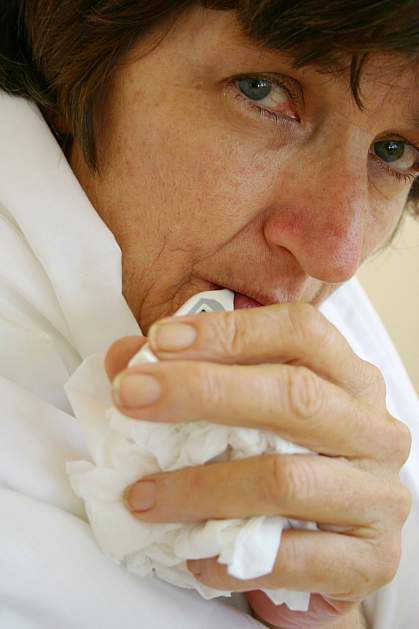 Scientists have isolated antibodies that protect mice against a variety of lethal influenza B viruses. One of them also guards against influenza A viruses. The accomplishment points the way toward universal approaches to combat all influenza A and B viruses.
The flu is a contagious respiratory illness caused by influenza viruses that infect the nose, throat and lungs. They can cause mild to severe illness, and sometimes death. Influenza viruses continuously change, or mutate. Vaccines need to be reformulated each year to match new circulating strains. A universal influenza vaccine—one effective against multiple strains for several years—would have an enormous impact on public health.
Influenza viruses are classified as types A, B and C. Type A viruses include the H5N1 avian virus, the 1918 pandemic flu virus and the seasonal H1N1 flu. Type A has several subtypes, but researchers recently isolated antibodies that neutralize a broad range of influenza A viruses. These attach to a region on the stem of hemagglutinin (HA), a protein on the virus surface that allows it to enter and spread between cells. Unlike HA's head, which mutates quickly, the stem varies relatively little from strain to strain.
Influenza B viruses have received less attention than type A viruses. Type B viruses aren't harbored by large numbers of animals, a requirement for creating pandemics. Nevertheless, a significant number of seasonal flu cases are caused by influenza B. Two distinct lineages of influenza B—the Victoria and Yamagata lineages—are in circulation.
A research team led by Dr. Ian A. Wilson at the Scripps Research Institute and Drs. Jaap Goudsmit and Robert Friesen of the Crucell Vaccine Institute in the Netherlands set out to find antibodies that neutralize a broad range of influenza B viruses. The scientists took a similar approach to the one that helped them find broadly neutralizing antibodies to influenza A. They screened antibodies from people who were recently vaccinated with the seasonal influenza vaccine, searching for the ability to bind HAs of both influenza B lineages. Their work was funded in part by NIH's National Institute of General Medical Sciences (NIGMS) and National Center for Research Resources (NCRR).
In the online edition of Science on August 9, 2012, the researchers described 3 antibodies (called CR8033, CR8071 and CR9114) that bound HA from both influenza B lineages. One, CR9114, also bound influenza A viruses. Structural studies revealed that CR8033 and CR8071 bind parts of the HA head region, whereas CR9114 binds a part of the HA stem.
All 3 antibodies protected mice from lethal influenza B viruses of both lineages. Significantly, CR9114 also protected against lethal doses of influenza A H1N1 and H3N2 viruses.
Vaccines that induce the body to make antibodies against the region that CR9114 binds might one day provide protection against all influenza A and influenza B viruses. "To develop a truly universal flu vaccine or therapy, one needs to be able to provide protection against influenza A and influenza B viruses, and with this report we now have broadly neutralizing antibodies against both," Wilson says.
—by Harrison Wein, Ph.D.
Related Links
References: Science. 2012 Aug 9. [Epub ahead of print]. PMID: 22878502.