You are here
August 27, 2012
Implanted Heart Cells Stifle Irregular Rhythms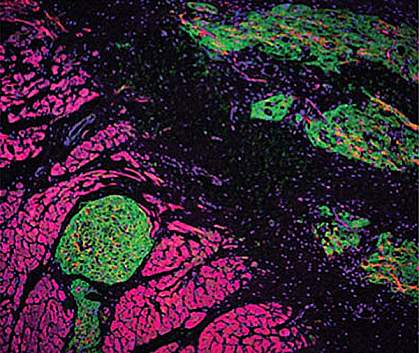 Shiba et al., courtesy of Nature.
Heart cells derived from human stem cells can protect injured guinea pig hearts against abnormal rhythms, a new study showed. Similar heart cell transplants might one day hold promise for treating damaged human hearts.
Heart attacks are a leading killer of men and women nationwide. Survivors have damaged heart tissue and an increased risk for life-threatening arrhythmia—an irregularity in the rate or rhythm of the heartbeat.
Scientists have been exploring the potential of repairing injured hearts with infusions of heart cells derived from human embryonic stem cells. Earlier research led by Drs. Charles E. Murry and Michael A. Laflamme at the University of Washington showed that these cells could improve the structure and the function of damaged hearts in rats and mice. But it was unclear if the transplanted cells could properly beat in sync with heart muscle inside the animals' bodies. Mice and rats have rapid heartbeats—about 400 to 600 beats per minute. But in a culture dish, the fastest rhythm achieved by heart cells derived from human stem cells was 240 beats per minute.
To see if transplanted human cells could beat in rhythm with a functioning heart, the scientists turned to the guinea pig. Its heart rate is about 200 to 250 beats per minute. The research was funded by NIH's National Heart, Lung and Blood Institute (NHLBI) and National Institute of General Medical Sciences (NIGMS), along with the Geron Corporation. Results appeared online on August 5, 2012, in Nature.
The scientists transplanted the human stem-cell-derived heart cells into more than a dozen guinea pigs with damaged hearts. The cells were delivered along with a "pro-survival cocktail," a chemical mixture that enhances engraftment. For comparison, some animals received the cocktail along with non-heart cells derived from human embryonic stem cells. Others received only the pro-survival cocktail.
A month later, all the animals still had evidence of heart damage. But those treated with heart cells had grown some human heart tissue within scarred regions of the animals' hearts. The heart cell group also had fewer episodes of ventricular tachycardia, an arrhythmia marked by a too-fast heartbeat. When later challenged with electrical stimulation to the heart, only about 7% of heart cell recipients developed arrhythmia, compared to at least 50% in the other 2 groups.
The researchers next assessed how well the transplanted cells could sync with the rhythm of the guinea pig heart. They tagged the stem-cell-derived heart cells with fluorescent molecules that flashed with each contraction. Labeled cells transplanted to uninjured hearts became strongly coupled to the animals' heart rhythms under a variety of conditions. Transplants to injured hearts generally included both coupled and uncoupled regions.
"In our study, we discovered that the heart cell grafts do, in fact, couple to the guinea pig hearts," Laflamme says. "We show that the transplantation of these cells also reduces the incidence of arrhythmias." These results are encouraging, but the researchers note that long-term studies of safety and effectiveness must be done in larger animals before this type of therapy could be considered for humans.
—by Vicki Contie
Related Links
References: Nature. 2012 Aug 5. doi: 10.1038/nature11317. [Epub ahead of print]. PMID: 22864415.