You are here
May 3, 2016
Antidepressants have varied effects on weight change
At a Glance
An analysis of antidepressant use found that non-smokers who took bupropion lost weight compared to those taking other depression medications.
The potential effect on weight is one factor for people to consider with their doctors when choosing an antidepressant.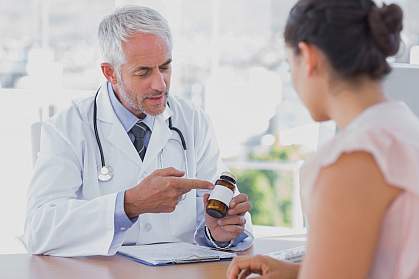 Wavebreakmedia Ltd/ Wavebreak Media/Thinkstock
Antidepressants are among the most commonly prescribed medications in the United States. Weight gain is one of the most common side effects of these medications. With more than 2 in 3 adults nationwide overweight or obese, the long-term effects of these medicines on weight is a significant public health concern.
Most antidepressants have similar efficacy. Treatment choices are largely based on adverse effects, costs, and other factors. Knowing the long-term impact of these medications on weight could help inform these decisions.
A group led by Dr. David Arterburn of the Group Health Research Institute and the University of Washington School of Medicine examined the relationship between antidepressant medications and weight change. They used electronic health records from Group Health, an integrated health plan and care delivery system in the states of Washington and Idaho.
The team collected data from adults, ages 18–65 years, who had a diagnosis of depressive disorder and started treatment with a newer (second-generation) antidepressant between 2005 and 2009. Patients were excluded from the analysis if they had other conditions, were taking medications, or had any procedures that could strongly affect weight change. The researchers identified about 970 antidepressant users who had their weight recorded over a period of 2 years. Of these, 227 took the same antidepressant for the entire time.
The scientists adjusted for age, gender, smoking, and other factors that could affect the results. Because one of the most commonly prescribed antidepressants, bupropion (Zyban), is also used for smoking cessation, the researchers examined its effects among smokers and non-smokers separately. Fluoxetine (Prozac) was used as the reference treatment. The study, which was supported by NIH's National Institute of Mental Health (NIMH), appeared online on April 13, 2016, in the Journal of Clinical Medicine.
After 2 years, non-smokers who took bupropion weighed an average of 7.1 pounds less than non-smoking fluoxetine users, who had gained 4.6 pounds on average over the 2 years. Those who took bupropion for the entire 2-year period weighed an average of 8.4 pounds less than non-smoking fluoxetine users.
Smokers who took bupropion gained an average of 2.2 pounds more than smokers who took fluoxetine. However, quitting smoking is known to lead to weight gain.
Sertraline was the only other medication that was associated with weight change. Sertraline users gained an average of about 6 pounds more than fluoxetine users. There weren't enough patients who took some antidepressants (mirtazapine, duloxetine, and venlafaxine) during the study period for the researchers to estimate their effects with confidence.
 "Our study suggests that bupropion is the best initial choice of antidepressant for the vast majority of Americans who have depression and are overweight or obese," Arterburn says.  Controlled clinical trials or analyses with more data will be needed to confirm and expand on these findings.
–by Harrison Wein, Ph.D.
Related Links
References: Long-Term Weight Change after Initiating Second-Generation Antidepressants. Arterburn D, Sofer T, Boudreau DM, Bogart A, Westbrook EO, Theis MK, Simon G, Haneuse S. J Clin Med. 2016 Apr 13;5(4). pii: E48. doi: 10.3390/jcm5040048. PMID: 27089374.
Funding: NIH's National Institute of Mental Health (NIMH).