You are here
April 20, 2009
Antipsychotics May Cause Metabolic Changes in Alzheimer's Patients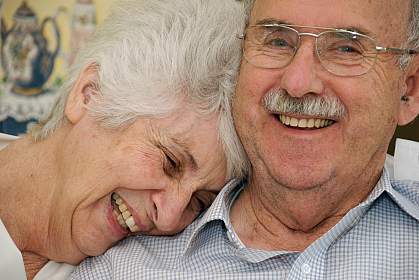 Newer, second-generation antipsychotic medications may cause weight gain and other metabolic changes in patients with Alzheimer's disease, according to a new study. The results build on previous work questioning the use of these drugs in Alzheimer's patients.
More than half of those with Alzheimer's disease get symptoms such as delusions, aggression, agitation and hallucinations. Doctors often prescribe antipsychotic medications to treat these symptoms. Second-generation, or atypical, antipsychotic drugs had been thought to be at least as effective as older antipsychotic drugs but to cause fewer troubling side effects.
To investigate, NIH's National Institute of Mental Health (NIMH) funded the Clinical Antipsychotic Trials of Intervention Effectiveness—Alzheimer's Disease (CATIE-AD) study. CATIE-AD compared the atypical antipsychotics olanzapine (Zyprexa), quetiapine (Seroquel) and risperidone (Risperdal) to a placebo (inactive pill) among 421 participants with Alzheimer's disease. A previous analysis found that these medications can be modestly effective in treating some symptoms. However, their benefits may be offset by negative side effects, such as sedation, confusion and weight gain.
Other studies have shown that atypical antipsychotics can cause weight gain, an increased risk for diabetes and higher cholesterol and triglyceride levels in younger or middle-aged adults with schizophrenia. In the new CATIE-AD analysis, a team led by Dr. Ling Zheng and Dr. Lon S. Schneider of the University of Southern California examined the drugs' metabolic effects on older patients with Alzheimer's disease. Their results were published online on April 15, 2009, in the American Journal of Psychiatry.
Olanzapine and quetiapine were associated with weight gain, particularly in women. The average gain was 0.08 pounds per week of antipsychotic use. Olanzapine was also associated with a decrease in HDL (good) cholesterol and increased waist size. The drugs had no effect on blood pressure, glucose or triglyceride levels.
These findings highlight the need for doctors to use caution in treating Alzheimer's patients with atypical antipsychotics. More studies are needed to determine whether certain people are less susceptible to the troubling side effects of these drugs and could clearly benefit from their use.
Related Links