You are here
May 11, 2021
App may help identify children with autism spectrum disorder
At a Glance
Researchers developed a prototype app that screens toddlers for autism spectrum disorder by tracking eye movements while showing videos on a tablet or smartphone.
The app could provide an efficient, low-cost option for early detection of autism spectrum disorder.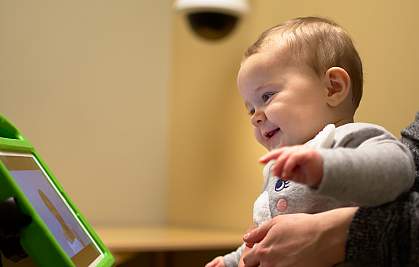 Duke University
The human brain is wired to pay attention to social information like facial expressions, speech, and gestures. Infants learn about the world through these social interactions. Autism spectrum disorder, or ASD, is a developmental disorder that affects communication and behavior. People with ASD can have a hard time engaging in and interpreting social behavior. Symptoms generally appear in the first two years of life.
Early treatments for ASD can help lead to better outcomes, making early detection important. Studies have shown that children with the disorder have distinct patterns of eye movement when viewing social scenes that can help with early detection. A child with ASD may spend more time looking at an object off to the side than a person smiling at them in a video. But while eye tracking can be used for screening, current methods are expensive and require special equipment and training.
Researchers investigated whether smartphones and tablets could be used in a real-world setting to detect symptoms of ASD. A team led by Drs. Geraldine Dawson and Guillermo Sapiro at Duke University designed a prototype app to study differences in eye gaze patterns among toddlers viewing short videos. The study was funded by NIH's Eunice Kennedy Shriver National Institute of Child Health and Human Development (NICHD) and National Institute of Mental Health (NIMH). Findings appeared in JAMA Pediatrics on April 26, 2021.
Researchers tested the eye-tracking app with nearly 1,000 toddlers at well-child visits with their pediatricians. The children, ages 16 to 38 months, viewed video clips on a tablet or smart phone while sitting in a caregiver's lap. The videos were all 60 seconds or less and included people on one side of the screen: a man blowing bubbles, a woman spinning a top or a pinwheel, or two women talking to each other about a trip to the park. Objects like toys or a clock appeared on the opposite side of the screen. 
The children were also shown two control movies without people or language. A front-facing camera recorded each child's eye gaze while viewing the videos. They were also screened for autism at the visit using a standard questionnaire. Among the toddlers, 40 were diagnosed with autism after further evaluation.
The team analyzed eye tracking data using computer vision analysis and machine learning. They assessed the amount of time spent looking at people compared to inanimate objects. The clip of the two women talking also gave information about the child's attention to speech.
Children with ASD were much less likely than typically developing children to focus on social stimuli in the videos. The research team also observed problems with the children's ability to visually track conversations, which hadn't been previously documented.
These findings suggest that the eye-tracking app could be a viable method for identifying young children with ASD. Larger studies will be needed to further test the app. 
"We hope that this technology will eventually provide greater access to autism screening, which is an essential first step to intervention," Dawson says. "Our long-term goal is to have a well-validated, easy-to-use app that providers and caregivers can download and use, either in a regular clinic or home setting."
Related Links
References: Computational Methods to Measure Patterns of Gaze in Toddlers With Autism Spectrum Disorder. Chang Z, Di Martino JM, Aiello R, Baker J, Carpenter K, Compton S, Davis N, Eichner B, Espinosa S, Flowers J, Franz L, Harris A, Howard J, Perochon S, Perrin EM, Krishnappa Babu PR, Spanos M, Sullivan C, Walter BK, Kollins SH, Dawson G, Sapiro G. JAMA Pediatr. 2021 Apr 26. doi: 10.1001/jamapediatrics.2021.0530. Online ahead of print. PMID: 33900383.
Funding: NIH's Eunice Kennedy Shriver National Institute of Child Health and Human Development (NICHD) and National Institute of Mental Health (NIMH); Marcus Foundation; Simons Foundation; National Science Foundation; Office of Naval Research; National Geospatial-Intelligence Agency; Apple, Inc., Microsoft, Inc., Amazon Web Services; Google, Inc.