You are here
July 25, 2017
Where toddlers look is affected by genes and altered in autism
At a Glance
An eye-tracking study showed that where toddlers look when presented with a social stimulus, like a face, is affected by their genetic makeup.
Understanding how genes influence social behaviors may help researchers identify new or better ways to treat neurodevelopmental disorders such as autism.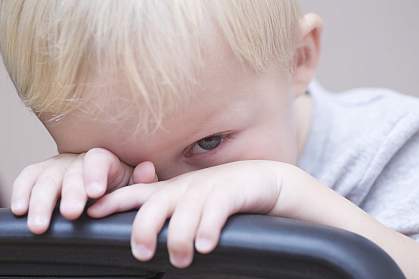 moodboard/Thinkstock
Where babies look helps them learn about and engage with the world. They give particular attention to social stimuli like people's faces. Reduced attention to people's eyes and faces is a behavior associated with autism spectrum disorder, and is often used to screen for and help diagnose the disorder. Reduced eye contact often appears by the first six months of age and persists as children grow older. Autism spectrum disorder affects how a person acts, communicates, and learns.
Researchers have identified a number of genes associated with autism spectrum disorder. To explore whether there is a genetic foundation for a child's gaze, a team of scientists conducted eye-tracking experiments in nearly 340 toddlers, ages 18 to 24 months. The group was led by Drs. John N. Constantino at Washington University and Ami Klin and Warren Jones at Marcus Autism Center and Emory University School of Medicine. Their work was funded in part by NIH's Eunice Kennedy Shriver National Institute of Child Health and Human Development (NICHD) and National Institute of Mental Health (NIMH). Results appeared online on July 12, 2017, in Nature.
The researchers examined 250 typically developing children: 82 identical twins (41 pairs), 84 non-identical twins (42 pairs), and 84 non-siblings (42 randomized pairs). They also evaluated 88 non-twin children diagnosed with autism. Each child watched videos that showed either an actress speaking directly to the viewer or scenes of children interacting in daycare. Special software captured the timing and direction of the children's eye movements, including how often they looked at the onscreen characters' eyes, mouth, body, or surrounding objects.
The team found that identical twins had much more similar visual patterns than those of non-identical twins and non-sibling pairs. Identical twins tended to shift their eyes at the same times and in the same direction. They were also more likely to look at the subject's eyes or mouth at the same moments. Non-identical twins matched when they looked at a person's eyes and mouth far less. Non-sibling pairs had very little similarity. The scientists also found that children with autism looked at people's eye and mouth areas much less than the other children.
When the children were tested again 15 months later, these effects persisted. Identical twins continued to look in nearly the same places. The gazes of non-identical twins diverged slightly more than the previous year. 
With these findings, researchers can now explore which genes are involved in social visual engagement and how these genetic pathways are disrupted in neurodevelopmental disorders such as autism.
"This is a mechanism by which genes actually modify a child's life experience," Constantino says. "And, because of that, this creates a new opportunity to design interventions to ensure that children at risk for autism acquire the kind of social environmental inputs that they need."
Related Links
References: Infant viewing of social scenes is under genetic control and is atypical in autism. Constantino JN, Kennon-McGill S, Weichselbaum C, Marrus N, Haider A, Glowinski AL, Gillespie S, Klaiman C, Klin A, Jones W. Nature. 2017 Jul 12. doi: 10.1038/nature22999. [Epub ahead of print]. PMID: 28700580.
Funding: NIH's Eunice Kennedy Shriver National Institute of Child Health and Human Development (NICHD) and National Institute of Mental Health (NIMH); Developmental Disabilities Research Center at Washington University; Marcus Foundation, Whitehead Foundation; and Georgia Research Alliance.