You are here
August 24, 2015
Combination Therapy for Metastatic Prostate Cancer
At a Glance
Giving chemotherapy along with hormone therapy can prolong the lives of men with a certain type of metastatic prostate cancer.
The trial results could change how metastatic prostate cancer is treated.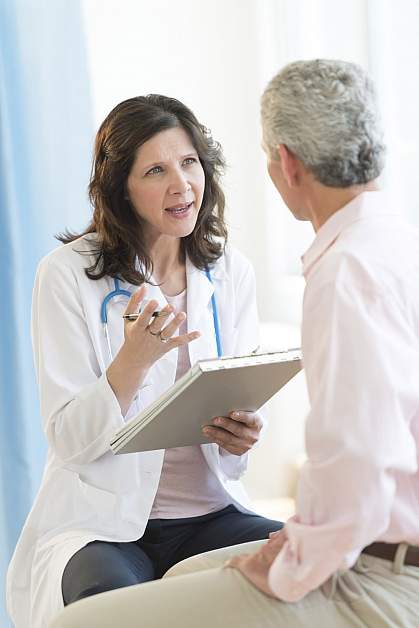 Prostate cancer is the second most common cancer in men in the United States, after skin cancer. The prostate is a gland that lies just below the bladder in front of the rectum. It surrounds the urethra (the tube that carries urine and semen through the penis and out of the body) and makes fluid that forms part of semen.
Prostate cancer often has no early symptoms and usually grows very slowly. More than half of prostate cancers remain localized to the prostate and don't become life-threatening. They can be treated with surgery or radiation, and in some cases don't need treatment.
Prostate cancer that's spread (metastasized) is usually treated with radiation or surgery, sometimes along with drugs that block the hormones the tumors rely on to grow and spread. One type of hormone therapy called androgen deprivation therapy (ADT) uses medications to block the action of androgens (hormones like testosterone that promote male sex characteristics).
Chemotherapy isn't routinely given initially when the metastatic prostate cancer is a type that's sensitive to hormone therapy. Rather, chemotherapy begins when the hormone therapy is no longer controlling the disease. A team of researchers led by Dr. Christopher Sweeney of the Dana-Farber Cancer Institute conducted a clinical trial to test whether adding the chemotherapy drug docetaxel at the start of ADT treatment would improve survival.
From July 2006 through December 2012, the team enrolled almost 800 men (median age 63, 85% white) with metastatic, hormone-sensitive prostate cancer. The men were randomly assigned to receive ADT alone or ADT plus 6 cycles of docetaxel. The median follow-up time was about 29 months. The study, which was funded by NIH's National Cancer Institute (NCI), was published on August 20, 2015, in the New England Journal of Medicine.
The median survival in men given ADT plus docetaxel was 13.6 months longer than with ADT alone (57.6 months vs. 44 months). There were 85 prostate cancer deaths in the combination group compared to 114 in the ADT-alone group. Adding docetaxel benefitted all the subgroups analyzed, but had the greatest effect in those with a high burden of metastatic disease. In this subgroup, men given combination therapy had a median overall survival that was 17 months longer than those in the ADT-alone group (49 months vs. 32 months).
Men in the combination group also showed improvement in the prostate-specific antigen (PSA) test, a blood test to detect prostate cancer. More patients in the combination group had very low PSA levels (less than 0.2 ng per milliliter) at 12 months—28% compared to 17% in the ADT-alone group. Side effects of the combination therapy were low, and included fatigue and allergic reaction.
"[This trial] is the first to identify a strategy that prolongs survival compared with ADT alone in men newly diagnosed with metastatic, hormone-sensitive prostate cancer," Sweeney says.
Longer follow-up of the men and further analyses are planned to better determine which prostate cancer patients would benefit from adding chemotherapy to ADT.
—by Harrison Wein, Ph.D.
Related Links
References: Chemohormonal Therapy in Metastatic Hormone-Sensitive Prostate Cancer. Sweeney CJ, Chen YH, Carducci M, Liu G, Jarrard DF, Eisenberger M, Wong YN, Hahn N, Kohli M, Cooney MM, Dreicer R, Vogelzang NJ, Picus J, Shevrin D, Hussain M, Garcia JA, DiPaola RS. N Engl J Med. 2015 Aug 20;373(8):737-46. doi: 10.1056/NEJMoa1503747. Epub 2015 Aug 5. PMID: 26244877.
Funding: NIH's National Cancer Institute (NCI) and Sanofi.