You are here
March 4, 2013
Compound Induces Antitumor Protein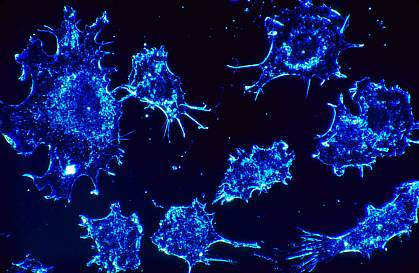 Dr. Cecil Fox, NCI
Researchers identified a small compound that can boost production of a known tumor-suppressing protein. The finding may improve on current approaches—now in clinical trials—that target this biological pathway.
Programmed cell death, or apoptosis, is the process by which the body eliminates unwanted cells, such as those damaged beyond repair. Apoptosis also plays a role in cancer, as cells that avoid apoptosis can divide uncontrollably and develop into tumors. Researchers have been searching for ways to selectively boost apoptosis in cancer cells without harming normal cells.
TRAIL (Tumor necrosis factor–related apoptosis-inducing ligand) is a protein the body produces to regulate apoptosis. It can induce apoptosis in a wide range of human cancer cell lines. Ongoing clinical trials are testing modified versions of the protein as well as antibodies that activate its receptor on the surfaces of cancer cells. However, these TRAIL-based therapies face several practical obstacles, including cost.
A research team led Dr. Wafik El-Deiry at the Penn State College of Medicine and Penn State Hershey Cancer Institute set out to try a different approach. They screened a collection of small molecules from NIH's National Cancer Institute (NCI), looking for molecules capable of up-regulating TRAIL gene expression in human cancer cells. The study, funded in part by NCI, appeared on February 6, 2013, in Science Translational Medicine.
The scientists found a small molecule called TIC10 that increased activity of the TRAIL pathway. The compound induced apoptosis in a broad range of cancer cell lines but not in normal cells. In live mice, TIC10 caused regression of several types of human tumor grafts more effectively than TRAIL itself. The compound also helped prolonged survival in mouse models of cancer. The researchers saw no adverse effects at doses up to 10 times a therapeutic dose.
TIC10 boosted levels of TRAIL throughout the mouse body, including the brain. This suggested that, unlike many chemotherapy agents, TIC10 can cross the intact blood-brain barrier. The compound could induce apoptosis in laboratory cells from glioblastoma multiforme, the most common type of malignant brain tumor in adults. TIC10 also helped double the survival of mice bearing grafts of these human tumors and, when given in combination with the drug bevacizumab (Avastin), tripled survival.
Further experiments revealed the mechanism by which TIC10 exerts its effects. The compound inactivates 2 proteins called Akt and ERK. These regulate another protein called Foxo3a, which in turn regulates TRAIL expression. The net effect of TIC10 is to cause Foxo3a to boost TRAIL production. This information will be important for the clinical translation of TIC10. Other agents targeting these biological pathways can now also be explored.
"I was surprised and impressed that we were able to do this," El-Deiry says. "Using a small molecule to significantly boost and overcome limitations of the TRAIL pathway appears to be a promising way to address difficult-to-treat cancers using a safe mechanism already used in those with a normal effective immune system. This candidate new drug, a first-in-its-class, shows activity against a broad range of tumor types in mice and appears safe at this stage."
The team is planning to bring TIC10, also now known as ONC201, into clinical trials.
— by Harrison Wein, Ph.D.
Related Links
References: Sci Transl Med. 2013 Feb 6;5(171):171ra17. doi: 10.1126/scitranslmed.3004828. PMID: 23390247.