You are here
March 4, 2013
Youth Interventions Lower Prescription Drug Abuse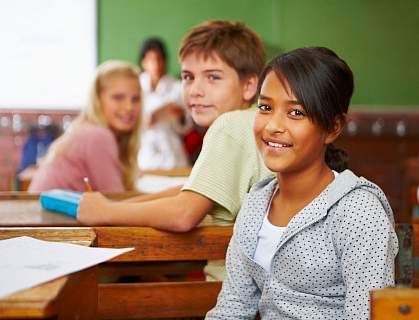 A new study found that middle school students in small towns and rural areas who received brief interventions had lower rates of prescription drug abuse into late adolescence and young adulthood.
Prescription drug abuse is taking a medication without a prescription, or in ways or for reasons not prescribed. Abuse of prescription drugs can have serious and harmful consequences, including addiction, poisoning and even death from overdose. Surveys have found that prescription and over-the-counter medications are among the top substances abused by young people. Developing successful community-based interventions to prevent this abuse is an important public health goal.
A team led by Dr. Richard L. Spoth at Iowa State University conducted 3 studies to assess the effectiveness of brief community-based interventions among rural or small-town students in grades 6 or 7. The studies didn't target prescription drug abuse specifically. Rather, all 3 studies used universal preventive interventions, which address general risk and protective factors for substance abuse. The work was funded by NIH's National Institute on Drug Abuse (NIDA), National Institute on Alcohol Abuse and Alcoholism (NIAAA) and National Institute of Mental Health (NIMH).
Study 1 (conducted from 1993 to 2008) tested an intervention focused on families of 6th graders. Study 2(1998-2011) tested a combined family-focused intervention and a school-based life skills training program in 7th graders from 24 schools. Study 3(2002-2009) tested a family-focused intervention and school-based interventions in 6th graders from 28 school districts. Students were randomly assigned to an intervention or control group.
Students completed written questionnaires or phone interviews through ages 17 to 25. They were asked about lifetime use of drugs such as barbiturates, tranquilizers, amphetamines, narcotics, opioids and pain relievers not prescribed by a doctor for their use. The results appeared online on February 14, 2013, in the American Journal of Public Health.
In study 1, the intervention reduced the rate of prescription drug abuse by 65%. Of the youth who participated in the intervention, 5% reported lifetime prescription drug abuse at age 25, compared with 16% of those in the control group. In study 2, rates for prescription drug abuse were reduced 33-62% at different ages. In study 3, 23% of youth who participated in the intervention reported lifetime prescription drug abuse in the 12th grade, compared with 29% of those in the control group.
These findings show that brief interventions among 6th and 7th graders in small towns and rural areas can bring long-term reductions in prescription drug abuse.
"The intervention effects were comparable or even stronger for participants who had started misusing substances prior to the middle school interventions, suggesting that these programs also can be successful in higher risk groups," Spoth says.
This study adds to growing evidence that brief intervention programs can have lasting effects on risky behaviors like drug abuse. Further research will be needed to better understand how best to design programs that target different high-risk populations.
Related Links
References: Am J Public Health. 2013 Feb 14. [Epub ahead of print] doi:10.2105/AJPH.2012.301209. PMID: 23409883.