You are here
December 11, 2006
The Costs and Benefits of Enhanced Depression Care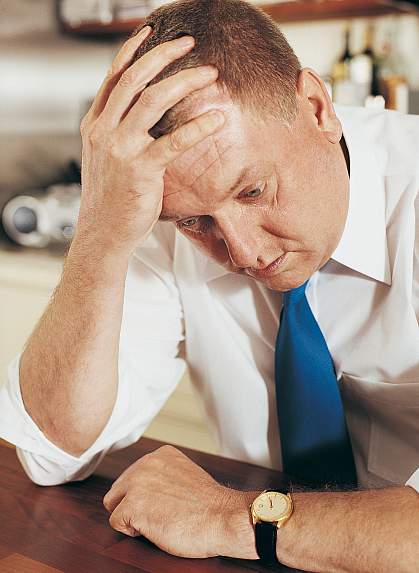 Outreach and enhanced interventions have been shown to help people with depression, but many employers think such programs would be too expensive to provide for their employees. A new analysis, however, shows that it may be in employers' best interests to offer programs that actively seek out and treat depression.
A research team led by Drs. Philip Wang and Ronald Kessler of Harvard University set out to do a cost and benefit analysis of a workplace intervention for depression. They performed a software simulation, based on the results of dozens of previous studies, in a hypothetical group of 40-year-old depressed workers diagnosed with depression. The workers were assigned to either "usual care," with no workplace depression management, or enhanced care, in which master's-level health professionals screened workers for depression. After detecting depression, the care managers did further assessments and, when necessary, referred the workers for treatment.
The researchers used previous studies to estimate how successful care managers might be in helping workers seek out and adhere to treatment regimens. They then gauged the cost-benefit to employers. Their analysis was supported by NIH's National Institute of Mental Health (NIMH) along with the Robert Wood Johnson Foundation.
The researchers published their findings in the December 2006 Archives of General Psychiatry. They estimated that providing enhanced care for employees' depression would result in a cumulative savings to employers of about $2,895 for every thousand workers over the course of five years. The intervention would initially increase the use of mental health services, but ultimately would save employers money by reducing absenteeism and employee turnover costs. The savings would begin to exceed costs by the second year, but then would be somewhat reduced in years three through five, as benefits wane after care management ceases but increased treatments continue.
The intervention became more expensive than usual care when there was greater use of psychiatrists instead of primary care doctors, or brand-name drugs instead of generic ones. It also ceased to be cost-saving if employees spent more than four hours of work time in treatment per three-month cycle. Enhanced care had the most benefit in cases of higher-level employees who influenced the productivity of co-workers.
"Depression exacts economic costs totaling tens of billions of dollars annually in the United States, mostly from lost work productivity," noted Wang. "Yet we're not making the most of available services and treatments."
The researchers' software simulation suggests that enhanced workplace programs for depression may be cost-beneficial. Upcoming studies will directly assess such programs on real life work outcomes to confirm these findings.
Related Links