You are here
January 12, 2009
Deep Brain Stimulation Curbs Parkinson Symptoms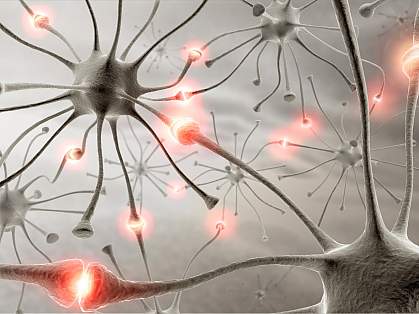 Scientists reported that a therapy for treating Parkinson's disease called deep brain stimulation improved quality of life and gave patients more daily hours without troubling movement symptoms than standard medical care. However, brain stimulation also carried a greater risk of serious adverse events.
Deep brain stimulation has been used for more than a decade to treat patients whose Parkinson's symptoms can no longer be effectively controlled with medication. The procedure involves surgically implanting tiny electrodes into brain regions that control movement. When the electrodes are stimulated, they inhibit the malfunctioning brain signals that cause tremor, walking problems and other movement abnormalities typical of Parkinson's disease. Despite its long-term use, however, questions remain about the benefits and risks of the procedure and its appropriate use, and few randomized trials have compared its effectiveness to other, less invasive therapies.
In the latest study, the largest clinical trial of its kind to date, 255 patients with advanced Parkinson's disease were randomly assigned to receive either deep brain stimulation or "best medical therapy," including medication. The study was funded by NIH's National Institute of Neurological Disorders and Stroke (NINDS) and the U.S. Department of Veterans Affairs' Office of Research and Development, with additional support from Medtronic, Inc. Unlike most previous studies, this multicenter trial included a large percentage of older patients; about 25% of participants were age 70 or older. The results were published in the January 7, 2009, issue of the Journal of the American Medical Association.
By 6 months after surgery, patients receiving deep brain stimulation had gained an average of 4.6 hours per day of good symptom control without troubling involuntary movements, called dyskinesia. In contrast, patients receiving standard medical care showed no change, on average, in hourly symptom control. In patients age 70 and over, those in the stimulation group gained an average of 3.8 hours of good symptom control per day, whereas those in the standard therapy group lost a half hour per day.
Clinically meaningful improvements to motor function were also seen in 71% of patients who received brain stimulation, compared to 32% in the standard therapy group. In addition, assessments of quality of life improved significantly in the stimulation group compared to the other group.
On the down side, serious adverse events were seen in 49 of 121 patients (40%) who received deep brain stimulation and in 15 of 131 patients (11%) in the best medical therapy group. The most common adverse event in the stimulation group was infection from the surgery. Other negative events included nervous system, psychiatric and cardiovascular disorders.
In the second phase of this ongoing study, the researchers will assess the longer term effects of deep brain stimulation. Until more data are available from carefully controlled clinical trials, the scientists recommend that doctors and patients carefully weigh potential benefits and risks when deciding on appropriate treatment for Parkinson's disease.
—by Vicki Contie
Related Links