You are here
January 12, 2009
New Tool to Predict Colorectal Cancer Risk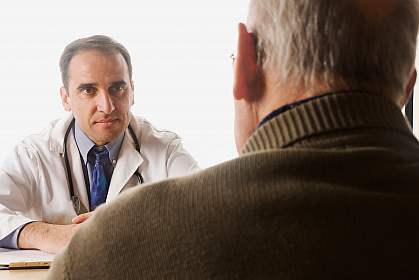 A new tool for calculating colorectal cancer risk for people age 50 or older recently came online. It will help health care providers and their patients make informed choices about when and how to screen for colorectal cancer. It might also be used in designing future colorectal cancer screening and prevention trials.
About 1 in 18 people nationwide will develop colorectal cancer at some point. In 2008, an estimated 148,810 Americans will be diagnosed with the disease, and another 49,960 will die of it. Several screening options are available for colorectal cancer. Having additional information about a person's risk can help health care providers and patients decide which screening regimen to pursue.
An article describing the development of the new risk-assessment model, along with another describing its validation, appeared online December 29, 2008, in the Journal of Clinical Oncology. To develop the model, researchers at NIH's National Cancer Institute (NCI) combined risk data from 2 large population-based case-control studies with population-based cancer rates.
The model takes into account several factors associated with colorectal cancer risk, including age, family history of colorectal cancer, consumption of vegetables, body mass index, cigarette smoking, use of aspirin or other non-steroidal anti-inflammatory drugs, physical activity, use of hormone replacement therapy, colorectal cancer screening history and history of polyps.
To test the performance of the model, the researchers compared the expected numbers of colorectal cancer cases predicted by the model to the observed numbers of cases identified in the NIH-AARP Diet and Health Study, a large study that follows AARP members and collects information about nutrition and health. Overall, the tool successfully predicted the numbers of colorectal cancer diagnoses.
"This colorectal cancer risk model will help physicians and their patients make informed decisions about colorectal cancer screening and other prevention strategies," said Dr. Andrew Freedman, lead author of the paper describing the model's development. "It may also assist policy makers in evaluating the usefulness of current and future population colorectal cancer screening approaches."
The resulting online tool uses easily obtainable information to provide an estimate of an individual's risk of developing colorectal cancer over 5 years, 10 years and over the course of a lifetime. It's now available at www.cancer.gov/colorectalcancerrisk. However, the researchers stress the importance of working with your primary health care provider to interpret the results and plan a course of action.
Because the case-control studies that were used to build the model included mostly non-Hispanic whites age 50 or older, the researchers were unable to provide estimates for other age and racial/ethnic groups. Scientists are now expanding the tool to include these populations. The tool also isn't applicable to people with conditions—such as ulcerative colitis, Crohn's disease or certain inherited genetic conditions—that are known to carry a very high risk of developing colorectal cancer.
Related Links